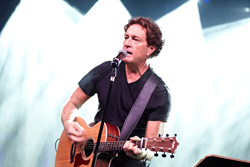 "The More You Love, The More You Live" — With its lyrical message of positivity and hope and its driving chorus, this first single from the new album was recognized as "Best Pop/Rock Song" for November 2015 by The Akademia.
(PRWEB) February 06, 2017
Oliver James' new video "The More You Love The More You Live" is from his new album, 'What We Have Learned'. James' songs combine soaring vocals, sweeping melodies, and one memorable chorus after another. Lush arrangements feature Oliver James on acoustic and electric guitars and lead vocals, accompanied by keyboardist Brett Levine and the rhythm section of Rick Nash and Larry Grano, with strings arranged by Chris Howes. Co-produced, mixed, and mastered by Alan Sanderson (Elton John, Rolling Stones, and Weezer among others), 'What Have We Learned' is as multi-dimensional as its makers. There are moments of undeniable celebration and others of quiet introspection and lonely exhalation. The album's songs blend timeless themes with modern production values.
Oliver's influences include some of the best known names in music history such as John Lennon, Ray Davies, David Bowie, Burt Bacharach, and Pete Townsend, and also extend to the lesser known (but equally powerful and brilliant) names like David Sylvian, Scott Walker, Jimmy Webb, and Nick Drake. 'What Have We Learned' is Oliver James' second full-length album.
http://www.oliverjamesmusic.com/
https://www.facebook.com/oliver.james.online