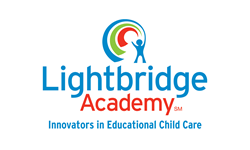 ISELIN, NEW JERSEY (PRWEB) February 03, 2017
Many great ideas are often born from a simple dream—and Lightbridge Academy is no exception. With more than two decades of experience in the corporate world, Guy Falzarano helped his wife, Julia, turn her passion for children and education into a reality. In 1997, the husband and wife duo opened their first child care center in Iselin, New Jersey near Metropark train station. The center provided early education and child care to children ages six weeks through kindergarten, as well as special programming for children up to 10 years old during school holidays, breaks and summer camp. But they quickly saw that when trains often ran late, parents would frantically run into the center to pick up their children just before closing.
"I felt awful that they were so stressed out. With three children of our own, we knew exactly how they felt and wanted to find a way to support them. It seemed as though the child care industry only cared for the needs of the child, but the needs of working parents were forgotten," said Guy Falzarano, Founder and CEO.
From that moment on, Lightbridge Academy was on a path to its own unique brand of child care. Seeing so many parents that were stressed out, worried or feeling guilty about leaving their children behind while they went to work, Falzarano and his team decided that there was an untapped opportunity to meet the needs of both the child and the working parent. Over time, Lightbridge Academy implemented many programs and services to support them, such as higher levels of security, extended hours and the ParentView® internet monitoring system to help parents stay connected to their children. Gradually though, Falzarano realized there were others that needed to be considered and cared for, as well. So the team structured its company around their Circle of Care philosophy taking into consideration the needs of parents, staff, the local community and owners to form a supportive relationship to create a nurturing and supportive educational environment for every child.
"The Lightbridge Academy Circle of Care isn't some catchy tagline, it's a belief that we all hold dear. Along with our core values, this philosophy attracts like-minded owners, staff, vendors and families that value caring relationships. If everyone is happy and supported, they will – in turn – care and watch out for one another," Falzarano said. "Our goal is to become an extended family and serve as an integral part in their lives. It's about treating all of our families as part of our own."
The concept resonated with the community, and under Falzarano's leadership, Lightbridge Academy's growth took off. His secret to success was simple: build strong relationships and stay true to the company's core values. Seeing an opportunity to take Lightbridge Academy to the next level, he decided to launch a franchise opportunity in 2011. Since then, Lightbridge Academy has grown from a single location in Iselin, New Jersey, to 85 child care centers either open, under construction or in development throughout Maryland, New Jersey, New York, Pennsylvania, and Virginia. As the company continues to grow, Falzarano believes those core values are more important than ever before. So much so, in fact, that they become a part of the franchise owners' lives too.
"We have a culture of care that is unique to our organization and it flows from the top down and from the bottom up," Falzarano said. "It's very difficult for others to replicate. Our franchisees experience a culture of care, and our training programs show them how to create the culture within their Lightbridge Academy center. It's a simple philosophy that everyone can use when making a decision to join our family."
Franchisees that thrive with Lightbridge Academy are those that believe in the company's core values and are passionate about making a difference in the lives of families. "We use our core values to manage the entire business. When we're bouncing decisions off of our 'Circle of Care' belief and we find that someone ends up being negatively affected, we look for another path," said Mark Mele, the senior vice president of Lightbridge Franchise Company. "Before a franchisee comes on board we ask them questions such as: 'How do you demonstrate caring?' If they don't have a clear answer, they're probably not a fit for the organization. As we grow our business, the most important thing is that the culture is replicated within each of those franchise businesses."
Creating a strong foundation of core family values and growing a culture that lives by and reinforces them has helped the brand achieve explosive success. In 2015 and 2016, Lightbridge Academy was ranked as a Top New Franchise by Entrepreneur magazine. Most recently, the brand was listed in the Entrepreneur 500 ranking for the first time ever. Now, fueled by last year's momentum, Lightbridge is entering the new year with an emphasis on increasing its density in the markets it has already entered, while also expanding its presence into new markets where the need for the brand's unique services are in high demand. And as the educational child care sector continues to grow in the years to come, Lightbridge Academy is positioning itself to be at the forefront of this important industry in 2017 and beyond.
"As Innovators in Educational Child Care, Lightbridge Academy wants to set the trends in the child care industry—we don't want to be a trend follower. We consider ourselves experts, and we're always evolving and looking for new ways to provide the best experience possible for children and parents," Falzarano said. "It's our goal to continue meeting the care and educational needs of both parents and children. This will continue to set Lightbridge Academy apart in the future."
ABOUT LIGHTBRIDGE ACADEMY®
About Lightbridge Academy®: Established in 1997, Lightbridge Academy provides early education and child care to children ages six weeks through kindergarten, as well as special programming for children up to 10 years old during school holidays, breaks and summer camp. The company franchised in 2011 in an effort to expand their distinctive concept throughout the Northeast; it currently has over 85 child care centers either open, under construction or in development throughout Maryland, New Jersey, New York, Pennsylvania and Virginia. Founded by Guy and Julia Falzarano, the family remains deeply involved in the company, from Guy Falzarano as CEO to multiple grandchildren enrolled in the child care facilities. To learn more about Lightbridge Academy, prospective families and franchisees are encouraged to visit http://www.LightbridgeAcademy.com or call 866-470-0262.