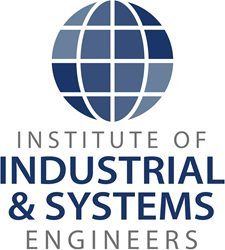 Norcross, Georgia (PRWEB) February 06, 2017
Don Greene, chief executive officer of the Institute of Industrial and Systems Engineers (IISE), has announced the election of the association's new officers.
Three positions were filled on IISE's 13-person board of trustees: president-elect, senior vice president, publications, and senior vice president, technical operations.
Tim McGlothlin will be president-elect. McGlothlin is executive director of The Ergonomics Center, housed in the Edward P. Fitts Department of Industrial and Systems Engineering at North Carolina State University. He has previously served on the IISE board of trustees as senior vice president of technical operations and has also served on various committees for the IISE/GOErgo Applied Ergonomics Conference. McGlothlin is an IISE fellow and holds a B.S. in industrial engineering from Virginia Tech and an M.S. in industrial engineering from the University of Tennessee.
Candace Yano was elected senior vice president of publications. At the University of California, Berkeley, Yano is professor of industrial engineering and operations research as well as the Kalbach Professor of Business Administration and professor of operations and information technology management in the Haas School of Business. She is an IISE fellow and has held numerous editorial positions with IIE Transactions (now IISE Transactions), IISE's flagship technical journal, including serving as editor-in-chief from 2005 to 2009. Yano has an A.B. in economics, an M.S. in operations research and an M.S. and Ph.D. in industrial engineering, all from Stanford University.
The new senior vice president, technical operations, is Amanda Mewborn. Mewborn is executive director of the Project Management Office at Piedmont Healthcare in Atlanta. She is a certified pediatric nurse, certified professional in healthcare information and management systems and a LEED green associate. She also holds a black belt in lean and in quality and process improvement. Mewborn is a diplomate and former president of IISE's Society for Health Systems, and she also is a health systems columnist for ISE magazine. She earned her B.S. in nursing at Georgia State University and her B.S. in industrial engineering and M.S. in health systems from the Georgia Institute of Technology.
Several vice presidents for the IISE technical operations board and the IISE regional operations board also were elected.
The newly elected vice presidents of technical operations are Tina Agustiady, president and CEO of Agustiady Lean Six Sigma and a global master black belt and the project manager of deploying a lean enterprise system at Masonite; John Jackman, associate professor, industrial and manufacturing systems engineering, at Iowa State University; and Rajiv Saxena, global head, supply chain solutions, of APL Logistics.
Three IISE regions picked new region vice presidents. Howard Huang, who provides business analysis and change management services to the Business Systems Group at Litens Automotive, will serve as regional vice president of the Canada region. Jared Frederici, a senior consultant for The Poirier Group and an integrated lean sigma lecturer at The Ohio State University, will be regional vice president of the Great Lakes region. And Thomas Sciotto, an industrial engineer at Northrop Grumman Mission Systems in Baltimore, will serve as regional vice president of the Mid-Atlantic region.
The new officers were elected by IISE professional members and will serve for three years. They will begin their terms April 1.
About the Institute of Industrial and Systems Engineers: The Institute of Industrial and Systems Engineers is the world's largest professional society dedicated solely to the support of the industrial engineering profession and individuals involved with improving quality and productivity. Founded in 1948, IISE is an international, nonprofit association that provides knowledge, training, networking opportunities and recognition to enhance the skills and effectiveness of its members, customers and the profession.
For more information, contact IISE Chief Operating Officer Donna Calvert at (770) 349-1108 or dcalvert(at)iise(dot)org, or visit the IISE website at http://www.iise.org.