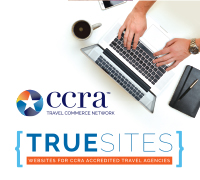 Fort Worth, Texas (PRWEB) February 06, 2017
CCRA will be hosting their first PowerSolutions Live of 2017 in Atlanta at the Le Meridien Atlanta Perimeter Hotel on Friday, February 24th, from 4:30 – 8:30 PM EST. This premier networking event will give travel agents the opportunity to network with local and national representatives from CCRA's supplier network including air, hotel, travel insurance, and more.
CCRA will be discussing their newest product, which is to be launched in February 2017, TRUESites powered by Voyager Websites. In conjunction with the product's release, Richard Earls of TRO will be present as the event's keynote speaker. He will be discussing, "Harnessing the Power of a Professional Web Presence."
In Earls' keynote, he will cover the importance of having a consumer-facing website to support travel businesses. Whether agents in attendance do or do not have a website, have a website and are unsure of how to use it, or could use a refresh on the subject of web presence, this keynote will cover a valuable topic for travel business owners delivered by one of the most powerful voices in travel industry media.
Other topics that will be discussed are:

Helpful social media tactics that will win business and drive leads,
What to include in your web content and where to get it,
Important laws and issues online sellers of travel may be faced with
CCRA's new Atlanta Area Chapter Director, Clavia Howard will also be present for the event, and will be delivering a brief introduction and her plan to grow CCRA's Atlanta Area Chapter.
In addition to Richard's discussion on CCRA's newest product, TRUESites, CCRA's VP of Membership Services and social media expert, Margie Jordan will be delivering an additional keynote speech on "Leveraging the Power of Facebook to Sell More Travel".
Agents who attend will also receive $25 off the membership fee for TRUE, as well as a waived setup fee for CCRA's brand new website solution, TRUESites, developed in partnership with Earls.
Featured Suppliers:

Allianz Global Assistance
Carey International
Emirates
Visit St. Petersburg Clearwater Florida
Posadas
Etihad Airways & Air Serbia
Hilton Worldwide
LaQuinta Inns & Suites
Red Roof Inn
Two Roads Hospitality
Vistana Villa Resort
IHG
Qatar Airways
PowerSolutions Live is free for CCRA Members to attend. For those who wish to preview CCRA Membership, a $25 fee will be charged per ticket to ensure attendance. Upon joining CCRA, $25 will be credited back as a membership discount. Travel agents of all experience levels are welcome and encouraged to attend PowerSolutions Live Atlanta.
To read more about PowerSolutions Live in Atlanta on February 24th, and to register, please visit: https://powersolutionsatlanta.eventbrite.com
To see all upcoming PowerSolutions Live Events in 2017, please visit: http://powersolutions.eventbrite.com
About CCRA:
Based in Ft. Worth, Texas, CCRA Travel Commerce Network is a global hub for travel technology, marketing, accreditation and education. For over forty years, CCRA has connected travel professionals and suppliers with the products and services they need to drive revenue, relationships and brand recognition in the travel marketplace. From the TRUE accreditation and coding system to hotels, air, call center services and more, CCRA is truly where the travel industry connects.