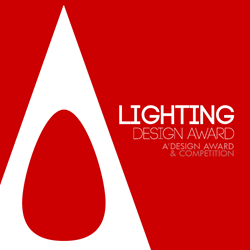 Como, Italy (PRWEB) February 03, 2017
A' Design Award and Competition annually organizing a prestigious International Lighting Products Design Award among Lighting Designers, Lighting Architects and Lighting Product Manufacturers from around the globe in order to select and promote lighting projects with values of good design within industry.
Every year, the International Lighting Design Awards is accepting works in many different subcategories that are being judged by a jury panel of 83 international members that are devoted to select the best lighting products and projects that will represent a combination of great aesthetic, modern functionality, excellent quality and innovative approach. Lighting designers are encouraged by A' Lighting Design Awards to submit their works, both realized and on a concept stage, that were created within last 10 years in pursuit of recreating a modern trends in lighting industry and promote the best of the best projects. More information on submission guidelines, eligibility and last year winners can be check here https://competition.adesignaward.com/competitions/lightningdesign.html
Deadline for entries is on February 28, 2017 with a public result announcement through the most popular design media partners of A' Design Award and Competition.
Laureates of A' Lighting Design Award are welcomed to the Winners' Award Ceremony and Gala Night held in Como Lake, Italy. Moreover, every winner is granted a coveted A' Lighting Design Prize that consists of a series of PR, marketing and publicity tools to celebrate the status of winning the Lighting Awards. In addition, A' Design Prize for A' Lighting Products and Projects Design Awards includes Design Excellence Certificate, Lifetime license to use the A' Lighting Products and Projects Design Awards Winner Logo, Yearbook of Best Designs, Exhibitions of Awarded Works in Italy, Exclusive Design Award Trophy, Entry to Prime Clubs, as well as inclusion in World Design Rankings, Designer Rankings, Lighting Design Classifications and Design Legends platforms.
About the A' Lighting Design Awards
The A' Design Award & Competition has been established to promote and recognize the best design works in all countries and in all creative disciplines thus annually organized A' Lighting Design Awards aims at creating global awareness and understanding for good design practices in lighting industry. The ultimate aim of the A' Design Awards is to push designers, companies and brands worldwide to create superior products and projects that benefit society and create value through constant improvement of aesthetic, quality and manufacturing. To learn more about the A' Design Awards and the A' International Lighting Products and Projects Design Awards please visit http://www.designaward.com