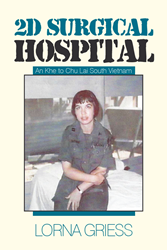 Sacramento, CA (PRWEB) February 06, 2017
A 30-year veteran of the Army Nurse Corps, Lorna Griess, wrote "2D Surgical Hospital" to share her personal experiences of serving during the Vietnam War and the drastic differences between civilian and military life.
In the book, she discusses what it was like to live and work in a mobile army surgical hospital (MASH) in South Vietnam. "2D Surgical Hospital" gives readers insight on medical care in a military setting, the challenges of treating patients in less than ideal circumstances, and the many emotions felt by military personnel from one moment to another.
"When I retired and came home to Sacramento, I gave talks at colleges and high schools about my experiences," said Griess. "I realized that the public did not fully understand what we did in Vietnam, so I decided to create a book that would expand on my public discussions."
Griess also recognizes that troops coming home from war in the middle east need help adjusting back to civilian life. She hopes that her book gives the public better understanding and acceptance of how war changes men and women.
"2D Surgical Hospital" reflects on a specific time in history that nevertheless carries relevance today.
"2D Surgical Hospital"
By Lorna Griess
ISBN: 978-1-52456-304-2 (softcover); 978-1-52456-305-9 (hardcover);
978-1-52456-303-5 (eBook)
Available on Amazon, Barnes & Noble, and Xlibris
About the author
Lorna Griess made the Army Nurse Corps her career after her tour in Vietnam. She served in hospitals worldwide for almost 30 years. Griess retired as a full colonel and chief nurse at Letterman Army Medical Center on the Presidio in San Francisco (now closed). Fully retired from nursing, she joined the Military Officers Association of America, California Council of Chapters, and became their legislative liaison. Griess serves as a veterans' advocate in the California State Legislature. She is a member of several other veterans' organizations, including Vietnam Veterans, AMVETS, and VFW. To learn more, visit http://www.2dsurgicalhospital.com.
###
Review Copies & Interview Requests:
LAVIDGE – Phoenix
Bryan Beach
480-998-2600 x 510
bbeach(at)lavidge(dot)com
General Inquiries:
LAVIDGE – Phoenix
Chris Pena
480-998-2600 x 510
cpena(at)lavidge(dot)com