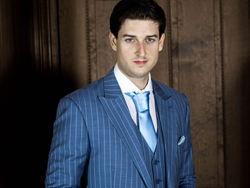 New York, New York (PRWEB) February 03, 2017
Jordan French, founding CMO of BeeHex, Inc., will be moderating 2017 Millennial 20/20 Summit panel "Hungry for disruption? The future of food and dining innovation" at 3:30PM, 2nd March, 2017 on the Digital Stage (B). The panel will also feature Pizza Hut executive Meysam Moradpour, Ferrara Candy Company's Amanda Greenberg, Barilla Americas' Head of Marketing Prita Wadhwani and Brinker International Vice President Wade Allen.
Jordan French is a Fast 50 and Inc. 500-ranked serial entrepreneur and journalist based in New York. He is the founding Chief Marketing Officer at BeeHex, Inc., the 3D food printing pioneer with origins from NASA. French cofounded BNB Shield, known as the "AirBnB police" and founded O'Dwyer's-ranked Notability Partners. He is a director and the founding CEO/COO who built the "Olivia Pope of the Internet," Status Labs, and is on the leadership team at FOWNDERS, the social-impact startup accelerator based in Newark, New Jersey.
French brings a unique perspective to the conference for entrepreneurs, with his work in engineering, philanthropy and law. In engineering, he worked as a payload engineer for NASA's Mars Gravity Biosatellite Program with other experience ranging from micro-electro-mechanical devices, Free Electron Laser beam delivery systems and medical intake systems at Vanderbilt University Medical Center. In philanthropy, he was the founding PR director for fitRaise, the peer-to-peer fundraising platform for charities. In law, he represented the People of the United States as an attorney-adviser at the Federal Energy Regulatory Commission, Office of Enforcement in Washington, D.C., and worked at a major patent-litigation firm in Houston, Texas.
Also a journalist, he is a frequent contributor to The Huffington Post, CIO, TechCrunch, and Tech.co, Thrive magazine, Influencive and business.com.
He holds a degree in biomedical engineering from Vanderbilt University, and a law degree from Washington University in St. Louis, and is a licensed attorney in New York and Massachusetts.
Tickets to the event can be purchased here.
About Jordan French
Jordan French is is a five-time start-up entrepreneur, engineer, marketing guru and part of the leadership team at FOWNDERS, the social-impact startup accelerator. French is the President and founder of O'Dwyer's-ranked Notability Partners, a CMO-level marketing concierge service with operations in Los Angeles, New York and Silicon Valley. A recipient of the Vanderbilt award for Selfless Leadership, French also serves as founding CMO of BeeHex, Inc. the leader in 3D food printing. In 2016, French introduced 3D food printing technology to the International Iberian Nanotechnology Lab in Braga, Portugal.
Jordan French is also a cofounder of real estate data-services firm, BNB Shield and sits on the advisory board of Status Labs where he is owner and member-manager. He regularly contributes to Tech.co, Huffington Post and TechCrunch.