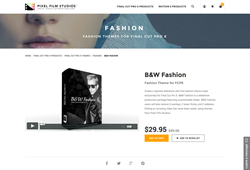 B&W Fashion allows editors to create a stylized slideshow with a fashion theme which can be fully customized to create the ultimate video project
Aliso Viejo, California (PRWEB) February 08, 2017
"B&W Fashion allows editors to create a stylized slideshow with a fashion theme which can be fully customized to create the ultimate video project," said Christina Austin - CEO of Pixel Film Studios.
Creating a slideshow with B&W Fashion is easy. To start, simply drag and drop a base slide from the Titles browser into the FCPX timeline. Stack each new slide directly on top of the previous slide to create a slideshow effect. Each new slide animates the previous slide out of the scene when the new slide enters the scene.
B&W Fashion contains a variety of title tools. This package includes 2 lower thirds, 2 sidebars and a text slide tool. Each title has specific uses and is designed so that users have all the tools required to make a fashion-themed production.
Enhancing slideshows with overlays is easy. Simply drag and drop one of B&W Fashion's included overlays over every slide or directly on top of a specific slide to stylize each one individually. B&W Fashion includes a shape, color, and vignette overlay. All three overlays can be used effectively in any production.
B&W Fashion is incredibly easy to use. After placing slides in the Final Cut Pro X timeline, select a slide and navigate to the inspector window to find designated controls. Adjust the animations of the scene using an intuitive drop-down menu. Then, reposition the text to a desired location. Lastly, adjust the color by inverting it with a checkbox.
Established in 2006, Aliso Viejo, California-based Pixel Film Studios is an innovative developer of visual effects tools for the post-production and broadcast community. Their products are integrated with popular non-linear editing and compositing products from Apple FCPX. Apple, the Apple logo, Mac OS X, and Macintosh are registered trademarks of Apple Inc. in the U.S. and/or other countries. All other trademarks and trade names are the property of their respective owners.