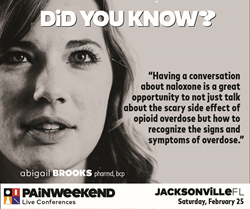 Montclair, NJ (PRWEB) February 06, 2017
PAINWeekEnd (PWE) Jacksonville, on February 25 at the Hyatt Regency Jacksonville Riverfront, 225 East Coastline Dr., will be an educational and exciting full-day program providing busy clinicians and allied healthcare practitioners with 6.0 hours of relevant, practical instruction in the management of chronic pain.
Florida is always in the news—Zika, kratom, pill mills, etc—and a good way to keep on top of health and pain management information is to attend PAINWeekEnd Jacksonville. Participants can enhance their skills in medication risk evaluation and mitigation, pain assessment and diagnosis, and delivery of individualized multimodal treatment. Attendees can also earn 6 credits towards Florida's CME requirements. Every 2 years, MDs must complete 40 hours of CME; advanced registered nurse practitioners must complete 24 hours of CE; and physician assistants are required to take 100 hours of CME.
Course topics/titles (subject to change) include Importance of Appropriate Chart Documentation: Through the Eyes of a Chart Reviewer; When That Shark Bites: Classic Central Pain Syndromes; Nonopioid Analgesics: Antidepressants, Adjuvant Therapies, and Muscle Relaxants; Naloxone Prescriptions for Overdose: Outside of Misuse and Abuse; Migraines A-Z; Not for Human Consumption: New Drugs of Abuse and Their Detection.
In addition, there will be commercially supported activities addressing a range of product, disease state, and medical information topics. To see the complete agenda and more information about this or other PAINWeekEnd Regional Conference offerings, go to painweekend.org.
The online registration fee for this PAINWeekEnd Conference is $129. PAINWeekEnd registrants are further offered the opportunity to register for the 2017 PAINWeek National Conference, September 5-9, in Las Vegas, for $200 off the current online published price.
PAINWeekEnd is provided by Global Education Group.