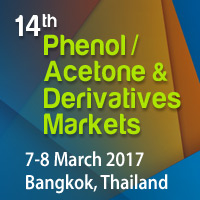 The summit evaluates the possible changes in phenol and acetone trade patterns arising from excess capacities in the industry.
Bangkok, Thailand (PRWEB) February 07, 2017
Given recent economic and political changes, 14th Phenol/Acetone & Derivatives Market opens with a session on the Global Economic Outlook and its impact on the phenol and acetone industry by Dr. Amonthep Chawla, SVP & Head of Research Office, CIMB. His highlights include rising risks and uncertainties about China's "new normal", reality of Brexit, Trumponomics and its implication on Asia.
The discussion then hones in on country-focused discussions encompassing an update on India's Phenol Market Trends & Projects by K. Shankar, Vice President - Commercial & Marketing, Deepak Phenolics and China's Phenol/Acetone Market Outlook by Leo Liu, Sales, CEPSA Chemical. In addition Phenol/Acetone Market Trends in USA/Canada will be presented by Shuja Zaidi, President and CEO, Chem-Energy Corporation.
The summit's eminent speakers will also analyze the feedstock markets via presentations such as 'Propylene Market Trends & Forecast' – featuring future sources of propylene and a review of olefins economics by Kanokwan Saktrakool, Consultant, Nexant plus 'Changing Dynamics of Benzene Markets' by Lim Fang Wei, Managing Director, Afco Petrochemical. Afco shares the East of Suez Supply/demand forecast as well as impact of regional derivatives markets on benzene & its downstream industries.
Hosted by Centre for Management Technology (CMT), other notable companies presenting are:

Corporate Sponsor EPC Engineering Consulting – Malte Bracht on Polycarbonate Technology Update
Covestro Polymers – Tim Efthimiady on Regional BPA & PC Market Trends
Fujian Shenyuan New Materials Co. – Song Manjun on Changing Caprolactam Business Outlook in China
Hexion – Ashit Joshi on Phenolic Resin Market Trends
Aditya Birla Chemicals – Sachin R Mathur on Epoxy Resin Market Outlook And Emerging Trends
Coffee Break Reception Sponsor – Asahi Kasei Corporation on New DPC Process for Polycarbonate
View event website for more information or call Ms. Grace at +65 6346 9147.