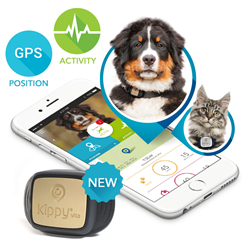 (PRWEB UK) 7 February 2017
Just launched, Kippy Vita (http://www.kippy.eu) is a powerful pet tracker and activity monitor all-in-one device. It allows owners to track their dog or cat's activity and position at all times and in all locations. The device includes an application (available via the App Store and the Google Play Store) and tracking service to monitor pet behavior even when their owners are abroad with frequent, real-time updates. Along with strengthening the bond between owners and pets in recreation, Kippy Vita can help pet owners find their dogs or cats in moments of crisis.
First, users enter data about their pet, such as its age, sex, breed, and size. This information is used to gather reports detailing minutes of play, walking, running, and sleeping. Owners can easily check the position and the activities of their pet from their PC, laptop, tablet or smartphone.
Features of the Kippy Vita app:

Live Tracking -- check a pet's position and behavior.
Proximity -- find out how far a pet is from its owner and how to reach it.
History -- navigate through the history of a pet's movements
Geofence – draw a virtual fence, and receive a warning notification if the pet leaves the selected area.
Goals – set daily activity goals for pets to meet.
Activity Detail – analyze and scroll through data for each activity.
The GPS and Activity Monitor attaches to a dog or cat's collar. Made of steel and extra-grip velcro, it has the durable construction to remain connected to even the most active pets. The monitor is shockproof and waterproof, suitable for quick diving. Its battery can last up to seven days on a single charge.
Features of the GPS and Activity Monitor:

Calorie Consumption – calculate the daily calorie consumption of a pet, based on algorithms in part developed by the Università di Bologna.
GPS Location – locate pets in real time at any time.
Location-Based Services – tracks pets even when GPS coverage is not available.
Smartphone Connection – pairs with any mobile device from any distance.
Kippy Vita is powered by Kippy srl, a startup founded in 2013 in Milan, Italy. "We are proud to have developed the first GPS device with an integrated Activity Monitor designed for pets," said Simone Sagiorgi, co-founder of Kippy srl with Marco Brunetti. Kippy Vita is a project that aims to strengthen the bond between pets and their owners in times of recreation and emergency.
To learn more about the Kippy Vita device and app, please visit https://www.kippy.eu/en-gb/kippy-vita-gps-tracker-tracker-activity-monitor-dog-cat.
Kippy Vita on the App Store: https://itunes.apple.com/us/app/kippy-vita/id1103729331?mt=8&ign-mpt=uo%3D4
Kippy Vita on the Google Play Store: https://play.google.com/store/apps/details?id=com.kippy.finder.vita&hl=it
Kippy Vita on YouTube: https://www.youtube.com/watch?v=NUpEZHYd29Q