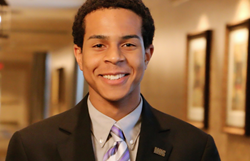 "Derek will perform under the leadership of nationally prominent conductors." -Ed Varner, MHS Director of Visual and Performing Arts
HERSHEY, Pa. (PRWEB) February 03, 2017
Milton Hershey School senior Derek Proctor will join more than 800 musically talented high school students from the Eastern region of the United States for the 2017 National Association for Music Education (NAfME) All Eastern Honors Ensemble festival. Students were selected from Pennsylvania, Connecticut, Washington D.C., Delaware, Massachusetts, Maryland, Maine, New Hampshire, New Jersey, New York, Rhode Island, Vermont, and Europe.
Derek will perform as a Tenor 2 vocalist in the ensemble's mixed chorus group, which includes 350 students. His is one of 67 vocalists representing Pennsylvania in the mixed chorus ensemble. Derek is the first Milton Hershey School student to be selected for the All-Eastern Choir since 2011, and only the second student in MHS history to perform at the festival.
"Derek has been a strong musician, actor, scholar, citizen, and representative of the Visual and Performing Arts Department at MHS for a very long time," said Ed Varner, MHS Director of Visual and Performing Arts. "His latest accomplishment as a member of the 2017 All-Eastern Honors Choir is particularly notable and will certainly be an exciting and rewarding experience for him."
Derek will prepare over the next two months for the All-Eastern chorus. In April, he will join the ensemble for three days of rehearsal. Throughout the festival, other student musicians will perform in the All-Eastern concert band, symphony orchestra, treble voice chorus, and jazz ensemble.
"Derek is an exceptional student and will prepare remarkably challenging music," Varner said. "He will perform under the leadership of nationally prominent conductors."
The NAfME All-Eastern Honors festival will be held in the historic Boardwalk Hall in Atlantic City, New Jersey from Wednesday, April 5 to Saturday, April 8, 2017. Thousands of people are expected to attend the performances on April 7 and 8.
The National Association for Music Education partners with state music educators to form a network of resources for high school musicians, including conferences, seminars, festivals and competitions. Milton Hershey School works with NAfME to provide opportunities for visual and performing arts students to perform at national and local levels.
More information about Milton Hershey School's comprehensive visual and performing arts program can be found at mhskids.org.
# # #
ABOUT MILTON HERSHEY SCHOOL
Milton Hershey School® is one of the world's best private schools, offering a top-notch education and positive home life to children in pre-kindergarten through 12th grade from families of lower income at no charge.