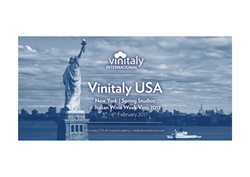 American sommeliers have never been more aware of and informed about the diversity of the world's wines
New York (PRWEB) February 04, 2017
Vinitaly International puts the spotlight on diversity at VINO2017
The world has never felt stronger about diversity than now, and it is no exception in the wine world today. Whether you are talking about re-discovering native grape varieties or re-evaluating the uniqueness of each terroir, or the uprise of women producers in the traditionally men-centered industry, the latest discussions in the wine world seem to share the same appreciation for diversity.
This is especially true in the U.S market where wine drinkers are often well accustomed to American wines and imported wines made from well-known international grapes, but not necessarily to the rest of the wine world. Even in an era where people can have wine delivered at their homes after perusing numerous offers on the internet sommeliers are maintaining their unique role, introducing the unknown. "American sommeliers have never been more aware of and informed about the diversity of the world's wines. And there has never been so many sommeliers actively working and sharing what they know as right now" states Levi Dalton, influential former sommelier and wine writer. The need among sommeliers to seek for interesting wines from the outer world is stronger than ever.
This is particularly relevant to Italian wines, where there is so much diversity within the wine production. Italy grows roughly 550 different native varieties, more than all the native grapes of France, Greece and Spain added together. In short, roughly one third of all the world's unknown grapes are Italian, and that does not take into account all the well-known international cultivars and the many crossings that also grow in Italy. When you think that roughly 80% of all French wines made in commercially significant numbers are produced from only 15 grape varieties, or that about 80% California wines are made from just 8 cultivars, you can see how complex Italian wines can be. (Source: Forbes, August 2016, https://tinyurl.com/zsxc7pt).
Sommeliers today are an ever-increasing source of wine wisdom, while decades ago wine writers were basically all anyone ever listened to. The uprise of wine bloggers or instant information on the internet that was once thought as a threat, has actually pushed sommeliers to come back to their essential role: the wine drinker's closest companion. Their role is to stay at the consumers side and introduce great wines in their price range when writers and critics may not have certain limits.
What sommeliers are extremely keen on now is re-evaluating the uniqueness of specific terroirs worldwide. Needless to say, this goes hand in hand with re-discovering native and unknown grape varieties as discussed above. The world is full of diverse wines that are yet to be discovered, and there are greater opportunities for sommeliers to get to know them more than ever. The more different and distinctive wines get, the more sommeliers will be able to tell interesting and engaging stories to the consumers. The story of diversity, is the story that we all want to tell now.
February the 6th will mark the beginning of Italian Wine Week – VINO 2017 organized by the Italian Trade Commission in collaboration with Vinitaly. First stop, Spring Studios in New York City with two days dedicated to Italian Wines. One of the most popular sessions will be an Executive Wine Seminar organized by Vinitaly International Academy, "Rare Grapes and Wines of Italy," targeting some of New York's top sommeliers. Led by Doctor Ian D'Agata, Scientific Director of VIA with the well recognized sommelier and wine writer Levi Dalton who is also the host of the highly rated "I'll Drink to That! Talking Wine" Podcast, the seminar will be an absolute one of a kind, unique tasting featuring a majority of wines never before tasted in the USA and of rare grape varieties most experts have never had a chance to taste.
An example is the Roussin de Morgex, an almost extinct red variety from Italy's alpine Valle D'Aosta, a region nobody has made wine with for the past two centuries at least. Ian D'Agata has worked with the Cave du Vin Blanc de Morgex for four years now and the result is an adequately pink, sparkling wine of real character. Only about 300 experimental bottles exist, but will hopefully be soon available for general sale. As part of the project, the Cave has also planted an experimental vineyard to the Roussin de Morgex variety.
The session will be followed by a second VIA seminar "Barolo, Barbaresco and Their Crus" held by Ian D'Agata. Nebbiolo is one of the world's best grapes at translating even minor differences in soils and microclimates into the glass. This tasting session will feature great Barolos and Barbarescos from some of Italy's best known or up and coming wineries that showcase the differences in single vineyards, highlighting the expressions of crus based on different soils, exposure, altitudes, climates and more.
Just to name one, Ciabot Oberto, run by siblings Marco and Paola Oberto, is a high quality rising star estate of Barolo that makes two different crus, the Roggeri and the Riocchette wine. However, they have also always made small lots of wine from the sandiest portion of La Morra, called San Biagio, but have never released the wine as such, preferring to blend this more aromatic floral wine into the regular Barolo bottling. At VINO 2017 in NY, VIA will give the wine professionals a chance to taste for the first time ever a Barolo made from a little known cru and that is radically different from any other wine made at the estate.
There will also be a round table on "Italian Wines and the American Palate: Trends and Opportunities in the US Market," seminars on "A Passion for Pink: Italy's Love Affair with Rosato" conducted by Jeff Porter, beverage operations director at Batali and Bastianich Hospitality Group and Eric Guido, wine director at Marketing Morrell Wine Group.
For more information about the event go to http://www.vinitalyinternational.com/events/vinitaly-usa-newyork-2017 or https://extraordinaryitalianwine.us/seminars-new-york/ or write to media(at)vinitalytour(dot)com
About:
Veronafiere is the leading organizer of trade shows in Italy including Vinitaly (http://www.vinitaly.com), the largest wine and spirits fair in the world. During its 49th edition Vinitaly counted some 4.000 exhibitors on a 100.000 square meter area and 150.000 visitors including more than 2.600 journalists from 46 different countries. The next edition of the fair will take place on 10 - 13 April 2016.
The premier event to Vinitaly, OperaWine (http://www.vinitalyinternational.com) "Finest Italian Wines: 100 Great Producers," will unite international wine professionals on April 9th in the heart of Verona, offering them the unique opportunity to discover and taste the wines of the 100 Best Italian Producers, as selected by Wine Spectator. Since 1998 Vinitaly International travels to several countries such as Russia, China, USA and Hong Kong thanks to its strategic arm abroad, Vinitaly International. In February 2014 Vinitaly International launched an educational project, the Vinitaly International Academy (VIA) with the aim of divulging and broadcasting the excellence and diversity of Italian wine around the globe. VIA has now also created its very first Certification Course with the aim of creating new Ambassadors of Italian Wine in the World.