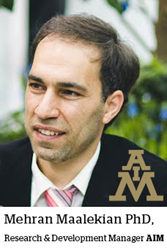 Cranston, RI USA (PRWEB) February 06, 2017
AIM Solder, a leading global manufacturer of solder assembly materials for the electronics industry, is pleased to announce that Dr. Mehran Maalekian, R&D Director, will present at the TMS Annual Meeting & Exhibition, scheduled to take place February 26th – March 2nd, 2017 at the San Diego Convention Center and Marriot Marquis & Marina in San Diego, CA.
Based on AIM's recent study, Dr. Maalekian's presentation titled "Effect of Ni on Mechanical Properties and Microstructure of Sn-0.7Cu and SAC307 Solder Alloys," evaluates the result of micro-alloying Ni in Sn99.3%/Cu0.7 and Sn96.3/Ag3/Cu0.7 alloys and the effect on intermetallic growth kinetics during aging.
Dr. Mehran Maalekian is experienced in materials engineering with a focus on physical metallurgy, soldering, modelling in materials engineering, metal forming and thermo-mechanical processes. Since the start of his career Dr. Maalekian has received numerous recognitions such as the National Sciences and Engineering Research Council of Canada Award, the International Henry Granjon Prize (IIW), and IWS-Sossenheimer Award. Dr. He has published many scientific and technical papers and also serves as a reviewer of several scientific journals and is on the editorial board of "Science and Technology of Welding and Joining."
About AIM
Headquartered in Montreal, Canada, AIM Solder is a leading global manufacturer of assembly materials for the electronics industry with manufacturing, distribution and support facilities located throughout the world. AIM produces advanced solder products such as solder paste, liquid flux, cored wire, bar solder, epoxies, lead-free and halogen-free solder products, preforms, and specialty alloys such as indium and gold for a broad range of industries. A recipient of many prestigious SMT industry awards, AIM is strongly committed to innovative research and development of product and process improvement as well as providing customers with superior technical support, service and training. For more information about AIM, visit http://www.aimsolder.com.
Upcoming Events:
February 28 – March 2, 2017 – Strategies in Light & the LED Show – Anaheim, CA
March 14 – 16, 2017 – Productronica China – Shanghai, China