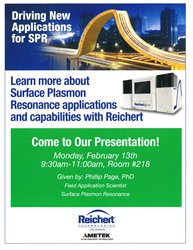 Buffalo, New York (PRWEB) February 05, 2017
Reichert Technologies, a business unit of AMETEK Ultra Precision Technologies, will take part in the 61st Annual Biophysical Society Meeting in New Orleans from February 11–15, 2017.
In addition to displaying its highly sensitive and flexible 4-channel surface plasmon resonance instrument, the Reichert4SPR, Reichert also will conduct an exhibitor presentation entitled, "Expanding Surface Plasmon Resonance Capabilities with Reichert," on Monday, the 13th from 9:30am to 11am in Room #218. The presentation will be given by Reichert's field application scientist, Phillip Page, PhD.
The presentation outlines how use of a Reichert SPR system paves the way for new avenues of investigation involving crude samples and whole cells, along with the ability to couple SPR with other techniques. Dr. Page will focus on the SPR technique and provide examples of unique applications with cells, along with the possibility of interfacing SPR with other analytical methods.
About Reichert's Full Line of SPR Systems
Reichert's SPR systems are able to provide the diverse interests of academia and industry with the most cost-effective, sensitive and flexible research platform available in today's marketplace. These systems supply a comprehensive characterization of molecular interactions that are important to researchers in numerous scientific disciplines, including drug discovery. Interactions include but are not limited to protein–protein, protein–peptide, protein–nucleic acid and protein–small molecule.
Reichert systems generate information-rich data that aid in determining such key parameters as binding association and dissociation rate constants (kinetics), equilibrium (affinity) constants, thermodynamics and concentration. The systems give invaluable insight into the dynamics of protein-binding assays that govern chemical and biological processes. The Reichert4SPR system implements high quality optics and the most robust fluidics platform that result in improved sensitivity, baseline stability and optimal flexibility.
###
About the Biophysical Society Annual Meeting
As science becomes increasingly interdisciplinary, the Biophysical Society Annual Meeting continues its long-held reputation of bringing together leading scientists from the all over the world who work at the interface of the life, physical, and computational sciences.
The dynamic five-day meeting provides attendees with opportunities to share their latest unpublished findings and to learn the newest emerging techniques and applications.
Despite its nearly 7,000 attendees, the Annual Meeting is noted for maintaining a "small meeting" feel beginning with the Saturday subgroup symposia, which allow attendees to meet within their scientific communities. It is also known for its vitality, demonstrated by the over 900 highly interactive daily poster presentations and - the more than 500 speakers selected from submitted abstracts. The meeting also includes advocacy and education programs as well as, many career development programs for those working in academia, industry, and agencies throughout the world.
About Dr. Phillip Page
Dr. Page completed his doctorate in analytical chemistry at the University at Buffalo, where his research focused on investigating solute-liquid and solute-fluid interactions at controlled pore glass surfaces, along with determining protein behavior and dynamics in novel ionic liquid solvents using spectroscopic techniques. Dr. Page currently is the field application scientist for Reichert's surface plasmon resonance (SPR) product line. He works closely with customers to develop a working protocol for their SPR-related research.
About Reichert Life Sciences
Reichert Life Sciences' entry into the design and manufacturing of Surface Plasmon Resonance (SPR) instrumentation began in 1997 with efforts to incorporate bio-sensing technology into Reichert's core critical angle refractometer products. That technology built upon a key Reichert patent (US Patent #4,640,616) describing a digital reflected light refractometer incorporating a charge-coupled device to sense reflected light intensity over a range of angles covering a refractive index range from 1.33 to 1.52. Since then, Reichert has utilized its applications knowledge to develop a full line of SPR systems that push the limits of detection and sensitivity in label-free interaction analysis with technology that drives research from discovery to development to production. Since Reichert's first SPR device was sold in 2000, the company's equipment has been used in hundreds of published studies.
About Reichert Technologies
With more than 150 years of history, Reichert Technologies of Buffalo, New York, is a global leader in the design, development, manufacture and sale of analytical and life science instruments, ophthalmic, and medical devices. Reichert also offers laboratory and portable/field refractometers for the automotive, food and beverage, chemical and industrial markets as well as clinical instrumentation for the healthcare market.
About AMETEK, Inc.
Reichert Technologies is a unit of AMETEK Ultra Precision Technologies, a division of AMETEK, Inc., a global leader in electronic instruments and electromechanical devices.