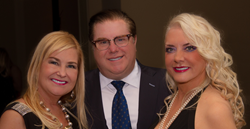 Our philanthropic endeavors give our employees the opportunity to make a difference in the community and help ensure a better quality of life for residents throughout North and South Carolina
Greensboro, NC (PRWEB) February 06, 2017
Association Management Group, Inc. (AMG) is one of the Carolinas' largest professional homeowner association managers with five offices in North and South Carolina. Yet on Saturday night, Jan. 28, the company became part of the "fashion industry" with the sponsorship of the extremely well-attended 5th Annual BIG HAIR Ball benefitting the Family Service of the Piedmont, one of the largest non-profit organizations of its kind in Guildford County.
"We were pleased to be part of such a fine event that helps families in need and we had an excellent time at this year's event, held at the Elm Street Center in Downtown Greensboro," said AMG Chief Executive Officer Paul K. Mengert. "This year's theme, Midnight at the Oasis: an Arabian Night, presented by The Guild of Family Service of Greensboro, charmed event goers with big hair, edgy fashions, food and drinks."
This year's BIG HAIR Ball raised a record breaking $165,000 and pulled in 650 community supporters. The Ball began with a cocktail reception followed by an incredible runway fashion show that showcased big hair, and highlighted elaborate dresses created by design students and local designers.
This is the second year in a row that AMG has served as a sponsor for this event, which helps fund Family Service of the Piedmont's efforts to restore hope and achieve stability for families and individuals in times of crisis through advocacy, education and stability. The organization services thousands of adults and children each year.
"AMG strongly believes in giving back to our community," noted Mengert. "Our philanthropic endeavors give our employees the opportunity to make a difference in the community and help ensure a better quality of life for residents throughout North and South Carolina."
For more information about Family Service of the Piedmont, please visit its website at http://www.safeandhealthyfamilies.com; to learn more about the Guild, please visit http://guildfsgso.org.
About AMG: AMG is a professional community association management company dedicated to building effective community associations. AMG guides and assists executive boards to help protect the association's interests, enhance the lives of community members and improve the property values in the community. With offices throughout the Carolinas in Greensboro, Winston-Salem, Charlotte and Raleigh, NC, and Greenville and Aiken, SC, AMG is a knowledgeable partner in enforcing community governing documents with a proven set of processes and techniques, and supporting communities with a broad range of services which can be tailored to individual community needs. Association Management Group, Inc. is a locally Accredited Business by the BBB and is a nationally Accredited Association Management Company (AAMC) by the Community Associations Institute. For more about AMG, visit http://www.amgworld.com.