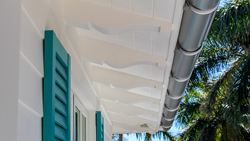 "When it comes to beauty, low maintenance and long life, no other soffit system solution comes close," states Mr. Guzman, vice president of the Hardie Boys.
Pompano Beach, FL (PRWEB) February 07, 2017
For the first time, architects and builders can specify a weather-resistant, zero-maintenance PVC soffit system that convincingly replicates every detail of the traditional timber-framed Coastal-style roof with tongue-and-groove decking.
Hardie Boys, Inc. (HB), the innovative producer of authentic millwork designs executed in high-tech materials, introduced the new system at the NAHB International Builders' Show (IBS) in Orlando, Fla. in January.
The system, according to HB vice president Lionel Guzman, includes a full range of fascia, soffit-panel, frieze-board and rafter-tail components compatible with British West Indies, Dutch West Indies, Coastal, Florida Vernacular and Key West architecture. He described it as the result of decades spent studying the region's architecture while collaborating with architects and builders to solve tough material, design, and fabrication challenges.
"When it comes to beauty, low maintenance and long life, no other solution comes close," Mr. Guzman says. "Soffit-system components have to function in a harsh environment. Originally, of course, they were made from wood, but wood is susceptible to pests, mold and rot, and it requires continual upkeep. More recently, we've seen vinyl and aluminum options. But vinyl fades. It's flammable, susceptible to movement and not always aesthetically pleasing. Aluminum can bend, dent and pit, and it's not easy to repair or refinish.
"Now cellular PVC technology resolves those issues. That's why, in just a few years, enthusiasm for PVC among builders, architects and homeowners has become almost universal. Here's a material that resists anything nature can throw at it. It gives you excellent paint adhesion and easy installation.
"And, as a millwork fabricator, HB carries the added advantage of exceptional tech support from the leading U.S. manufacturer of advanced cellular PVC—Versatex, LLC."
About Hardie Boys, Inc.
Established in 1997, Hardie Boys, Inc., is south Florida's premier manufacturer of exterior archi-tectural millwork for high-end residential construction. In addition to offering an extensive catalog of stock products and profiles, the Hardie Boys team excels at meeting custom design specifications. Full company, product and service details are posted at http://www.hardieboysinc.com