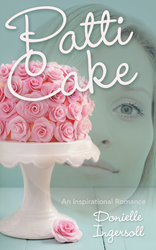 SEATTLE (PRWEB) February 06, 2017
A Seattle-based author and cake-decorating aficionado has released a Christian romance novel that highlights the importance of trusting God when faced with difficult decisions. In a new book, titled "Patti Cake," Donielle Ingersoll explores themes of faith, love, prayer and, of course, cake.
In the book, Ingersoll unwinds the narrative of Patti, whose successful cake decorating business, called Exquisite Cakes, attracts the attention of a dashing celebrity. Ultimately, romance blossoms between the two; however, Patti finds herself at a crossroads when, through a series of humorous encounters, another man from her hometown begins to woo her. Torn between the two men, Patti turns to God for an answer.
Through decadent descriptions and emotional twists and turns, "Patti Cake" emphasizes the importance of standing by one's beliefs and relying on God's guidance in times of turmoil.
"I firmly believe in the power of both creativity and prayer," Ingersoll said. "This book combines my love for making cakes and my faith in God, and I hope it offers readers encouragement and inspiration."
Ingersoll's clever and humorous tale will leave readers longing to tap into their own creativity and imagination.
"Patti Cake"
By Donielle Ingersoll
ISBN: 978-1-491-79471-5 (paperback); 978-1-491-79472-2 (electronic)
Available at the iUniverse Online Bookstore, Barnes & Noble and Amazon
About the author
Donielle Ingersoll spent more than 10 years as an educator. The author's hobbies include making and decorating cakes, writing and being a grandparent. Ingersoll currently resides in Central Washington.
###
Review Copies & Interview Requests:
LAVIDGE – Phoenix
Danielle Grobmeier
480-998-2600 x 614
dgrobmeier(at)lavidge.com
General Inquiries:
LAVIDGE – Phoenix
Maggie Driver
480-998-2600 x 584
mdriver(at)lavidge.com