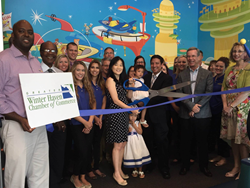 "We don't just want someone who likes working with children; we want someone who absolutely loves working with children," says Dr. Rogers
Winter Haven, Fl (PRWEB) February 07, 2017
Bright Smiles of Winter Haven, a leading pediatric dental practice in Winter Haven, Florida, announces their search for a new Pediatric Dentist to join their practice.
Bright Smiles of Winter Haven has been the town's 'haven' for pediatric dentistry since 1964. The practice was purchased by Dr. Ken Rogers, D.M.D., in 1990. He was joined by Dr. Tiffany Y. Chen, D.D.S., M.S. in 2010. Today, Dr. Rogers and Dr. Chen are a dynamic duo making smiles shine bright across Polk County where Bright Smiles is a thriving and growing practice. However, with Dr. Roger's retirement nearing, he and Dr. Chen must begin their search for the perfect candidate to join their team. Dr. Rogers and Dr. Chen are looking for a future partner who will share their enthusiasm for their work and love of their patients.
"Our ideal candidate will need to enjoy living in a smaller town where you see your patients around all the time. It's one of my favorite things when I see one of my patients outside of work and they run up and give me a big hug," says Dr. Rogers, "you will be a vital part of this community and will have a great responsibility to the town of Winter Haven."
It's not all work and no play, though. The town of Winter Haven, FL has is perks—LEGOLAND Florida theme park, more lakes than you can count, and Disneyland as a neighbor, to name a few.
"Living here is like living in paradise every day. It's sunny 365 days out of the year, my kids are always outside playing, there are so many outside sports they are involved in, we have the chain of lakes where we go skiing or tubing, we have the annual passes to LEGOLAND and Disney World," says Dr. Chen, "and you have the best of both worlds here—you get the benefits of a small town, but you're living right between two large cities (Tampa and Orlando) so you can take advantage of that as well."
Although moving to Florida isn't hard to sell, Dr. Roger and Dr. Chen are really looking for a pediatric dentist with one very important quality above all else—a passion for children.
"We don't just want someone who likes working with children; we want someone who absolutely loves working with children," says Dr. Rogers. "These children are the best part of our day and we want someone who would agree."
To learn more about Bright Smiles of Winter Haven visit http://www.brightsmilesofwinterhaven.com. To inquire about the position, please call 863-438-1905.