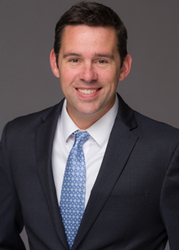 I will refer you guys to the end of time!
Groesbeck, TX (PRWEB) February 08, 2017
Since 2009, ILSA has sponsored an annual $5,000 Referral Sweepstakes. Insurance and financial services professionals can refer colleagues to ILSA for compliance assistance by visiting win5k.ilsainc.com. Each time a referral becomes a new ILSA client, the referring individual's name is entered automatically into the sweepstakes.
On January 12, 2017, Graham Doran was randomly selected as the winner of the 2016 $5,000 Referral Sweepstakes. Graham, himself an ILSA client, works as Executive Vice President for Prospect General Insurance Agency, Inc., in La Jolla, California. He has been part of the insurance industry since 1998. Following a congratulatory phone call and a few emails -- where Graham's first response was "You guys are the best!" -- a check in the amount of $5,000 was issued.
Graham plans to start college funds for his children with his winnings. When asked if he would consider referring ILSA to colleagues in the future, he replied: "I will refer you guys to the end of time!"
The $5,000 Referral Sweepstakes rules are drafted and maintained by Compliance Sweepstakes Services, LLC, in Stonington, CT. There is no limit to the number of entries an individual may have; the more they refer, the more entries they may accumulate. Approximately two weeks following the end of the sweepstakes period -- which runs a full calendar year -- a winner is randomly selected by a third-party vendor. Once eligibility of winner is verified, a check is issued by ILSA. The check is payable directly to the winner, no credits, coupons, or gimmicks.
The sweepstakes was created by ILSA's CEO, Arleen Taveras, and COO, Ted Taveras. The 2017 ILSA Referral Sweepstakes began on January 1, 2017, and will run through December 31, 2017. To learn more about ILSA's annual $5,000 Referral Sweepstakes, visit win5k.ilsainc.com or call (254) 729-8002.
About ILSA:
Insurance Licensing Services of America, Inc. is a full service insurance licensing and compliance service provider offering services such as: licensing, license renewals, CE tracking, surplus lines reporting & tax filings, and a whole list of other compliance services beneficial to the insurance and financial industries, nationwide. ILSA was founded in 1997 by Ted & Arleen Taveras. To learn more about ILSA and the services they have to offer, visit their corporate website at ilsainc.com.