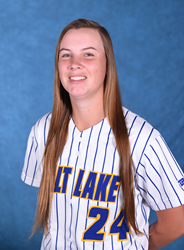 Salt Lake City, Utah (PRWEB) February 03, 2017
Salt Lake Community College sophomore Madison Sisco was named NJCAA Player of the Week by the NJCAA National Office for Week 1 of the season, which started at the end of January.
Sisco, who plays third base, was also named the SWAC Player of the Week for her sensational performance in leading SLCC to a five-game sweep en route to winning the College of Southern Nevada Tournament in Henderson, Nevada. She batted .733, going 11-15 at the plate, hitting five home runs, 13 RBIs, scoring seven runs, with two doubles and a walk. In the tournament game against No. 4 ranked Yavapai, Sisco went 3-4 with a home run, four RBIs, a double, and a run. Her success at the plate spread like wildfire to teammates as they tried to mimic her presence at the plate. Sicso, 19, is majoring in criminal justice at SLCC.
This is the second NJCAA National Player of the Week award Salt Lake has received during the 2016-17 academic year. Luis Vargas received the honor during last fall's men's soccer season. Sisco and the Bruins will continue preseason on the road when they participate in the FPU Classic in Marianna, Florida February 10-11th.
Salt Lake Community College is an accredited, student-focused, comprehensive community college meeting the diverse needs of the Salt Lake community. Home to more than 61,000 students each year, the College is Utah's leading provider of workforce development programs. SLCC is also the largest supplier of transfer students to Utah's four-year institutions and a perennial Top 10 college nationally for total associate degrees awarded. The College is the sole provider of applied technology courses in the Salt Lake area, with multiple locations, an eCampus, and nearly 1,000 continuing education sites located throughout the Salt Lake Valley. Personal attention from an excellent faculty is paramount at the College, which maintains an average class size of 20.