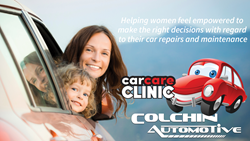 Arvada, CO (PRWEB) February 08, 2017
Automotive repair is the last great frontier for many women. Even those who are strong, powerful, and independent often feel uncomfortable in an auto shop, the Colchin team is changing the game. Co-owned by a woman, Colchin Automotive has long strived to empower Denver's female car owners.
The company is proud to announce that a female-centered car care clinic will be held at their shop on February 21, 2017 from 6 p.m. to 8 p.m. at 5740 Lamar Street Arvada, CO, 80002. To register, sign up on this website: http://www.autorepairshopforwomen.com/attend-our-free-car-clinic/
What Topics Are Covered?
The car care clinic serves as both an introduction for rookies and a review for those with more auto care experience.
Covered topics include:

Filtering conflicting information
Prioritizing repairs
Asking the right questions
Maintenance schedules based on driving habits
Basic automotive terminology
Realistic service life from your car - what to expect
How to describe symptoms and why accurate descriptions are vital
Attendees are invited to ask questions and seek additional knowledge. The goal is to help women develop a basic working knowledge of the auto care process, as well as to become more comfortable within the auto shop environment.
All attendees will also receive a car care safety kit.
Space is limited, so advance reservations are strongly recommended. Interested participants can register online today on this website: http://www.autorepairshopforwomen.com/attend-our-free-car-clinic/
About Colchin Automotive
Colchin Automotive has been a trusted name in auto care in Arvada, CO for more than 30 years. Married owners Todd and Kerry Colchin, and their hand-picked team of trusted automotive experts, pride themselves on gender equality. They strive to provide the essential information and top-quality customer service that every customer deserves, regardless of gender, as well as to provide a female-friendly shop environment that meets the needs of both male and female car owners. Colchin Automotive is located at 5740 Lamar Street, Arvada, CO 80002. Those who would like more information about the clinic are invited to call 303-431-5421. To learn more about Colchin Automotive's auto repair services, visit http://colchinautomotive.com/