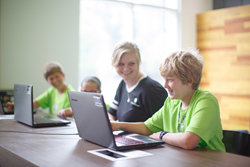 Students engage in STEM education at iD Tech Camps.
Campbell, CA (PRWEB) February 06, 2017
iD Tech, the number one STEM camp provider for kids and teens nationwide, has launched a Cryptography & Cybersecurity course for teens at four iD Tech Camps locations in the D.C. area. This course teaches students the history of cryptography and shows them how it is still relevant in modern cybersecurity today. Students learn how to send encoded messages to their classmates, encrypt data with programs and computers, and stay one step ahead of would-be cyber attacks.
"We've teamed up educators at the collegiate level as well as industry professionals to build a course that excites students about a possible future in the growing network security field," says Pete Ingram-Cauchi, CEO of iD Tech. "As countries around the world become more connected, and different laws about information security clash, it will be more important than ever to have knowledgeable, capable, and passionate students of network security."
The weeklong course is offered at Georgetown and American Universities in Washington, D.C. beginning the week of June 26, 2017, and Virginia Tech - Falls Church and the University of Maryland beginning the week of July 3, 2017.
"We see this this course is an entry point for students of all levels, and it will provide a real taste of what the field of cybersecurity is all about, preparing students to study at any college," says Ricky Bennett, Director of Innovation and Partnerships for iD Tech. "This course is being offered at our locations in the D.C. area for convenience to parents and to give our students a taste of the distinct collegiate life each of these campuses provide."
These four universities are unique and inspiring, from the 18th Century stonework of Georgetown to the bright red brick of the University of Maryland. The campuses are imbued with history and stunning architecture, and iD Tech is providing the kind of educational prowess parents want for their college-bound children to help prepare for the future.
About iD Tech
iD Tech is the leader in summer STEM education programs for students ages 6–18. Over 275,000 students have attended iD Tech since 1999. Camps are held at over 150 prestigious campuses in the United States, including Stanford, MIT, Harvard, and many others. In addition to its flagship program, iD Tech Camps, the company offers four distinct divisions all aimed at delivering inventive technology experiences to the next generation—one student at a time. Learn more at iDTech.com.