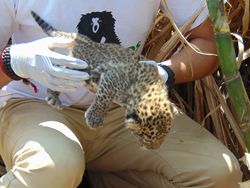 This is a small miracle; these cubs will now grow up wild and free instead of in captivity.
Pune, India (PRWEB) February 04, 2017
A rare and touching video from last week tells the story of two tiny leopard cubs, separated from their mother and on the brink of disaster, finally being reunited with mom in the night. The cubs—just three weeks old, still with their eyes closed—found themselves lost and alone in a sugarcane field near Pune, India. They were in imminent danger from predators and even unsympathetic humans. But thanks to the involvement of a few good-hearted farmers, the Pune Forest Department, and conservation group Wildlife SOS (WSOS), the cubs and their mom eventually slunk back into the forest as a family—all under the watchful eye of WSOS camera traps.
But according to local forest official Sanjay Gaikwad, situations such as this don't always turn out so well for wildlife. "Sugarcane fields provide safe cover to the cats," Gaikwad told the Hindustan Times. "But this also gives rise to conflict situations when farmers harvest the sugarcane. We received a distress call from the village and a team was dispatched."
Even with the helping hand of government officials and WSOS, the cubs' fate was still undecided early in the evening. Mother cats are reluctant to return to an area once humans have gotten involved, or they may not return at all due to injury or death. In such cases, cubs are doomed to a lifetime in captivity, at best.
WSOS Senior Veterinarian Ajay Deshmukh had a plan. After an in-field medical exam showed that the tiny cats were fit to be released, WSOS representatives constructed a makeshift shelter from milk crates and laid it in the field where the mother leopard had last been spotted. WSOS then placed two remote-control camera traps to keep an eye on the kittens from a safe distance. Several hours later, they heard the mother leopard call out, then watched her cautiously emerge from the forest to carry her cubs by the scruff of the neck back into the wild. It was a victory for everyone.
"We want to ensure that these leopards don't end up in captivity if we can help it," WSOS cofounder Kartick Satyanarayan told the Pune Mirror. "We want them back in the wild living freely…. It's crucial for leopard cubs to grow up with their mothers."
With little forest cover left for foraging, hiding, and living in, female leopards now look to agricultural areas—particularly the tall, dense sugarcane fields common in Pune—for the necessary shelter to give birth and rear cubs. But cubs often end up alone when the mother ventures out to hunt, and if she doesn't return immediately, the situation can become serious. Heart-warming reunions such as this are rare, according to WSOS, but the possibility of a reunion is worth every effort.
"This is a small miracle; these cubs will now grow up wild and free instead of in captivity," said WSOS Executive Director Nikki Sharp in a press statement. "Some people are skeptical that leopard reunions even occur, but we've got an amazing video showing one right here. You just can't always assume that the mother has died or is too afraid of local people to return to the area; [this video] is a reminder that we should make every effort even if the likelihood is slim."
For more information, please contact Wildlife SOS Communications Lead John Pecorelli at (801) 750-0301. Email: john(at)wildlifesos(dot)org.
About Wildlife SOS: A non-profit organization, Wildlife SOS is one of the largest rescue and conservation charities in South Asia, operating 10 wildlife rehabilitation facilities across India, including the world's largest sloth bear rescue center and the recently established Elephant Conservation and Care Center, which is the first in India and currently houses 22 rescued elephants. Wildlife SOS runs a tribal rehabilitation project that aims to create an alternative livelihood for poachers and other indigenous communities that once depended on wildlife for a livelihood. We also run a leopard rescue center, a wildlife hotline in New Delhi and Agra, and Forest Watch, which is an anti-poaching wildlife crime enforcement unit. More information about the organization can be found at http://www.wildlifesos.org. The U.S. branch of Wildlife SOS is based in Salt Lake City, Utah, and received 501(c)3 charity status in 2005.