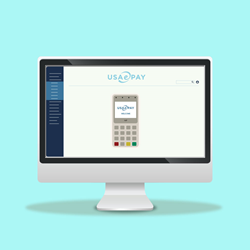 Glendale, CA (PRWEB) February 06, 2017
USAePay is proud to announce the release of its innovative browser-based EMV application that is an ideal solution for every merchant. Certified to work with a majority of the payment processing platforms, the EMV application offers a web-based interface that allows users to accept credit and debit chip card payments using their desktop and laptop computers. Merchants now have the ability to pair their EMV devices to USAePay's browser-based application through any WiFi network and start processing payments right away.
"The solution we offer is unlike any other being offered today for EMV," said Ben Goretsky, CEO at USAePay. "Using any browser on any computer, merchants can today process EMV quickly and securely through our merchant console interface."
The browser-based application enables USAePay merchants the ability to process EMV, contactless (Apple Pay and Samsung Pay), and swipe transactions. Compatible to work with macOS and Windows based web-browsers, the EMV application gives users the choice of using EMV certified hardware solutions from such companies as Verifone, Ingenico, and Castle. This new browser-based application will allow USAePay to better facilitate their merchants who want to process EMV payments wherever, whenever and however they choose.
USAePay works hard to offer its trusted resellers advanced payment gateway solutions and allows merchants to process secure and safe payments. With its cutting edge browser-based EMV solution, retailers can manage the entire EMV processing experience across channels and locations. Please visit https://www.USAePay.com to learn more about the browser-based EMV solution.
***
About USAePay:
USAePay is an industry leading payment gateway offering channel friendly payment solutions headquartered in Los Angeles, CA. USAePay takes pride in its high-level security, making it a priority and ensuring transactions processed securely. The industry leading payment gateway is one of the first to become Level-1 PCI Compliant, continually developing ways to improve the service they offer to clients.