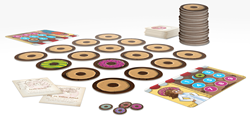 Dozen's Donuts takes a familiar formula, that of a memory based card game, and adds a twist.
Seattle, WA (PRWEB) February 05, 2017
Today Monocle Society officially releases Dozen's Donuts, a colorful children's game of matching and memory.
Dozen's Donuts takes a familiar formula, that of a memory based card game, and adds in a twist. Players take turn searching for matches in a 4x4 grid by revealing a pair of donuts. Every match they reveal gives them a point, with the first player scoring twelve points winning the game. Where Dozen's differs from the formula is that the grid moves every time a pair is scored, meaning the memory aspect of the game is more challenging. Special power-up granting donuts give the players unique abilities that further shake-up the game and move the donut grid. A colorful cast of diverse characters, including a mad scientist, a stack of gnomes, a yeti and more, give this classic feeling game a wide appeal for both families and casual gamers.
Designer and Monocle Society Founder, Kyle Kinkade designed Dozen's Donuts after being disappointed with matching games he purchased for his young sons. Combining the traditional memory game mechanism with the grid of the "Match 3" style mobile games that are popular with young children, Kyle created Dozen's Donuts as the first in a line of tabletop games Monocle Society, traditionally a purely digital developer, plans to release. Monocle's signature digital element will be a part of Donuts though, with a companion app to be released later this year. The digital application will include animated score cards and new twists on the gameplay and will be available on android and iOS (including Apple TV).
Dozen's Donuts is for 2-6 players, ages 4 and up, and plays in just 20-30 minutes. It includes 54 Donut Cards, 18 Power Up Napkin Cards, 6 Score Cards (1 for each character), 6 Score Markers and a rulebook. Dozen's Donuts is currently available on Amazon and with select retailers with an MSRP of $19.99. You can watch a promotional video at: https://www.youtube.com/watch?v=q6DFlmZZPSs
About Monocle Society:
Monocle Society is an interactive design studio specializing in app integration, augmented reality, and trans-media innovation. With decades of combined experience in the digital arena, and a shared love of tabletop games, they have expanded to being a tabletop publisher by pushing what games with digital elements can do, releasing their flagship product, Weave: A Storytelling Platform, later this year. More information is available on their website: http://www.monoclesociety.com .