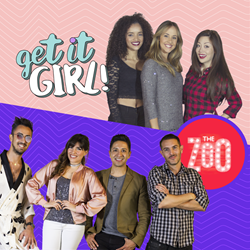 Los Angeles, CA (PRWEB) February 06, 2017
LATV Networks, the original national bi-cultural television network, is excited to announce new episodes of its block of fast-paced, irreverent, high-energy content. That means more provocative talk, more celebrity guests, and more wild segments that cover everything from politics to pop culture, the latest viral trends, women's issues, and the wide world of sports. Nothing is off limits on LATV!
The Zoo, hosts Humberto Guida, Vivianne Ligarde, Dennis Pastorizo, and Bruno Ulloa prove that when Latino millennials get together under one roof, it's a zoo.
Get It Girl, hosts Vivi Thomasi, Ana Marte, and Fiona Rene, explore today's trending issues, topical interests, and celebrity gossip from a women's point of view.
FanNation, hosts Adrian Jules and Ana Marte take on the world of sports, whether in the field, on the court, or in the ring, no sport is off limit on FanNation.
The Edge, hosts Bruno Ulloa and Destinee Handly, dive into the edgy world of electronic dance music and music festival culture, hitting the biggest events and interviewing up and coming EDM artists and producers.
LATV Networks is known for taking an alternative approach to its programming, and now the majority of its content is produced in U.S., based out of its state-of-the-art Los Angeles studio, for all platforms. LATV's programing contains a vast array of new productions that take us inside the art, the music, the sports, and the trends that Latino millennials are into today. Spearheading this initiative is its #WildtTalk block with The Zoo, Get It Girl, FanNation, and The Edge.
Luca Bentivoglio, LATV's COO and Head of Programming explains, "we are creating unique U.S produced content that will talk directly to the millennials, as they seek a voice that they can relate and trust. And the new episodes represent a strength and continuity in our block of fan favorite shows. The voice is here and it's called LATV."
About LATV:
LATV is the only remaining Latino-owned TV network in the Hispanic television space. Its programming primarily targets U.S.-born Latinos and the coveted bi-cultural 18-49 Latino demographic, with content that features a originally produced shows in Los Angeles, as well as licensed content that has never before been seen in the U.S. For more go to http://www.LATV.com