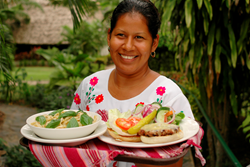 being recognised as among the top one per cent of hotels and resorts worldwide is a very good feeling
San Ignacio, Belize (PRWEB) February 07, 2017
The staff of The Lodge at Chaa Creek is celebrating a recent announcement by TripAdvisor that it has been placed among the top one percent of hotels worldwide, the Belize eco-resort's general manager said.
Bryony Fleming Bradley said she was thrilled to receive notice that TripAdvisor had named Chaa Creek a 2017 Travelers' Choice Award winner.
"Congratulations! You're a winner… Travelers' Choice awards are the highest honor TripAdvisor can give – meaning your business is truly exceptional. Based on reviews and opinions from millions of travelers, you're in the top 1% of hotels," the January 27 2017 announcement read.
Ms Bradley said she and Chaa Creek's owners, management and staff were particularly pleased as the Traveller's Choice Awards are based on reviews from people who travel and rate destinations based on their personal experiences.
"That's what makes TripAdvisor recognition so special," Ms Bradley explained, "We've collected many travel industry, environmental and other awards, all of which we deeply appreciate, but what makes the 'Traveller's Choice' awards stand out is that they are user-generated, meaning that our guests not only had a great experience, but felt compelled to write about it.
"For us, that's high praise indeed," she said.
TripAdvisor bills itself as the world's largest travel site, aggregating over 435 million reviews from some 200 million members as well as casual contributors. The Travelers' Choice Awards, now in their fifteenth year, are based on millions of reviews and opinions collected in a single year from TripAdvisor travelers worldwide, according to the organisation's website.
Chaa Creek has consistently enjoyed positive reviews on TripAdvisor, and after winning five "Certificates of Excellence" in a row was placed in the organisation's "Hall of Fame" in 2015.
The popular Belizean eco-resort also has a restaurant in nearby San Ignacio Town, the Guava Limb Café, which has also garnered certificates of excellence since opening in 2013 and was recognized as "Belize's Best Restaurant for 2015" by the Belize Tourism Board and featured in a Travel Channel piece, "Where Foodies Should Go In Belize."
Ms Bradley said positive word of mouth, a commitment to quality service and excellent customer relations have been behind Chaa Creek's success since owners Mick and Lucy Fleming opened the doors of their family farm in western Belize to guests in 1981, becoming one of the new nation's first eco-resorts.
"Belize had only just achieved independence from Great Britain in 1981, and since we had very little name recognition and a miniscule marketing budget, those of us in the new tourism industry knew we had to be exceptional if we were to compete with the more well-known destinations.
"We also realised that if we were to have a future, we needed to be environmentally sustainable and socially responsible, and that obviously struck a chord with the new breed of responsible traveller who appreciates and supports sustainable tourism.
"Those things, plus Belize's stunning natural beauty, friendly English speaking populace and the amazing amount of things to do in such a small country, combined with the cheerful dedication to excellence shown by each and every one of our 160 staff members, all added up to the success we're very grateful for, and that's shown in this recent Traveller's Choice Award," Ms Bradley said.
In addition to this recent accolade, Chaa Creek is also one of three finalists worldwide in their category for National Geographic's prestigious "World Legacy Awards" which will be announced in Berlin February 2017.
"We were very excited to be selected as finalists for National Geographic's World Legacy Awards; not so much for collecting another award, but for proving that you can have a very strong commitment towards protecting the environment and supporting local communities and still provide a high level of quality and service. We like to think that we can act as a model to show that being green works, and works well," Ms Bradley said.
"And to be honest, being recognized as among the top one per cent of hotels and resorts worldwide is a very good feeling. Everyone at Chaa Creek is walking around with big smiles today," she added.
The Lodge at Chaa Creek is a multi award winning eco resort set within a 400-acre private nature reserve along the banks of the Macal River in Belize.
END