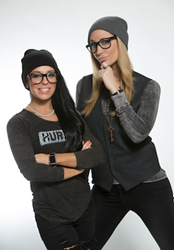 Rousso says, "I have taken a big gulp and decided to pursue music full time—and just like any poker 'All In' decision, it has been as simultaneously terrifying and thrilling as ever!"
Las Vegas, NV (PRWEB) February 04, 2017
N1TEL1TE, a music duo featuring CBS Big Brother standout Vanessa Rousso and Montreal producer/DJ Melissa Ouellet, debuts dance single, 'Kiss Face' on N1TEL1TE's YouTube channel during the Super Bowl half-time show on February 5th (which also happens to be Rousso's birthday). 'Kiss Face' is also being distributed on iTunes for purchase and Apple Music for streaming.
With over $4.5 million in poker winnings, Rousso, who grew up in Florida, has become a household name amongst poker fans. By night, however, the French-American developed her passion for music over the last decade—studying at Berkelee School of Music to gain the technical chops of a dance music producer. Beyond production, Rousso has DJ'd special events and nightclubs worldwide.
"Being a poker player, everything is zero-sum—a win, is always somebody else's loss. On the contrary, making music with Mel means spreading love and making people feel good...and that's the best feeling in the world," says Rousso. "That's my reason for going 'All In' on pursuing music full time."
Ouellet draws on her Montreal deep/tech house underground roots and her versatility has earned her a place amongst the most capable producers in the music industry. Her genre-bending mixes explore soulful vocals, house music grooves, and the infectious dance allure of twerk, trap, and future house.
'Kiss Face' is the first in a series of dance singles that N1TEL1TE has slated for release this year. Connect with Rousso and Ouellet on Twitter, Instagram, Snapchat, or via the official N1TEL1TE website.