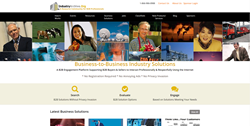 "Fundamentally the most efficient & privacy safe B2B resource solution for B2B professionals" Robert Hennessey- Editor
(PRWEB) February 07, 2017
BACK-OFFICE BUSINESS SOLUTIONS, INC, has launched a new online Business-to-Business Resource Community for B2B Professionals IndustryArchive.Org. IndustryArchive.Org unveils an alternative approach to B2B Web marketing. One akin to the philosophy of David "Doc" Searls that the Internet has created an Intention Economy where customers (buyers), not sellers are in charge of the sales process.
"IndustryArchive.Org captures the essence of what the Internet is supposed to deliver for B2B professionals. The power of a unrestricted exchange of information and knowledge to make better-informed business decisions without being harassed, targeted or having B2B Buyer privacy compromised," says Robert Hennessey, Founder of IndustryArchive.Org.
Historically advertising on the web has largely been about Sellers getting the Buyer's attention with banner ads. How many opens, impressions, eyeballs, and clicks on these ads is the measure of success.
Targeting buyers by their searching habits and placing ads in front of them to get their attention is still the dominant Web advertising approach. Now marketers are begging to use data mining and predictive marketing strategies the latest technology tools that enhance targeting sales prospects with advertisements.
IndustryArchive.Org does not require user registration or use any form of banner ads or native advertising present on most websites.
Hennessey declared, "IndustryArchive.Org is an engagement platform for B2B professionals that want to interact with an ad-free, privacy-protected and transparent environment using the Internet."
"The website facilitates B2B professionals finding viable business solutions and business partners based on the power of knowledge and problem/solution selling," according to Hennessey.
"Business professionals are busy and hate to waste time. We help B2B professionals get information, insights, and answers to business problems in a straightforward, easy to find and easy to digest manner," said Hennessey.
The website features business content in the form of Application Stories, Articles, Case Studies, Market Research, New Product & Services Profiles and White Papers.
Hennessey said, "we ensure the content at IndustryArchive is of a high quality and relevant to B2B professionals seeking practical business solutions. This is not just disguised sales pitches but real problem solution content that business professionals want."
Besides the high-quality business solutions, it also includes other business resources:

Resource Directory
Events & Meetings
Job Board
New Product & Services Profiles
Classifieds for Business Products & Services
B2B Solutions Blog
Users can browse and gain knowledge on various business solutions important to their business, and then they can directly engage the sellers they decide to contact.
Using IndustryArchive is easy since there is no registration required and all the business solution content is available without exchanging B2B Buyer contact information. Plus each section of the website has multiple ways to search to make it simple to find the information B2B Buyers seek.
IndustryArchive.Org is the brainchild of veteran marketer Robert Hennessey. His team spent eighteen months developing, testing and refining their unique B2B Resource Community.
For more information on this service, visit IndustryArchive.Org or call 866-986-0988.