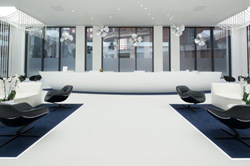 We are delighted to be displaying the multiple possibilities of Corian® at the Surface Design Show.
(PRWEB UK) 6 February 2017
DuPont™ Corian® returns to the popular Surface Design Show in London with a stylish display of its renowned ingenuity, versatility and reliability. This year at stand 210 at the Business Design Centre, the theme is the workplace and how Corian® design material can solve every challenge, from beautifully functional desks to decorative backlit cladding to high-traffic washrooms.
"2017 also sees a change in operations for Corian® in the UK, with CD (UK) Ltd - exclusive distributor of Corian® in the UK for 37 years - now taking over responsibility for all local sales and marketing programmes. Representatives and experts from the Corian® team will be on hand to reveal their latest trend research, offer advice, give demonstrations, arrange trainings and discuss all current and future project needs.
Alongside ideas for high-impact receptions areas, hot drink stations and striking visual identities, the stand also hosts the latest hi-tech solution for washrooms. This forward-thinking innovation is a collaboration between Dyson and CD (UK) Ltd, created to offer a smart, sleek, easy-care option for hand washing and drying, made with Corian® and featuring the Dyson Airblade Tap & Dryer.
Gary Baker, Managing Director of CD (UK) Ltd, the UK distributor of Corian® says: "At CD (UK) Ltd, we're really proud that we have played such a large part in the growth of this incredible product since we introduced Corian® to the United Kingdom 37 years ago. It's very exciting to be expanding our role in the continuing success of the brand, especially with many more innovations in the pipeline. We are delighted to be displaying the multiple possibilities of Corian® at the Surface Design Show."
Corian® will play another key role at the event, as the remarkable Living Atlas project by The Agency of Design for LSM, fabricated by Cutting Edge company, a Corian® Quality Network - Industrial Partner, is a Finalist in the Surface Design Awards, to be held at the show on Thursday 9th of February at H 12:30.
Please visit Corian® at Stand 210, The Surface Design Show, Business Design Centre, London N1 0QH, February 7th – 9th.
About DuPont™ Corian® (http://www.corian.uk) - First created as a high performance material for kitchen and bathroom worktops, Corian® is now - thanks to its unique combination of functionality, versatility and beauty - a leading global brand in surfacing materials for interior design and architecture. Over the years, Corian® has emerged as an exceptional design tool for every application one can imagine. Kitchens, bathrooms, lighting, furnishing, facades, radiators, home automation, touch control surfaces: today, Corian® can be found almost everywhere in Commercial, Residential and Public Space applications.
To know more, and stay in touch with DuPont™ Corian®
http://www.corian.uk / http://www.endlessevolution.corian.com
Facebook.com/CorianDesign / Twitter.com/CorianDesign
Youtube.com/CorianDesign / Pinterest.com/CorianDesign
For commercial info on Corian®: T: 0800 962 116 E: info(at)corian(dot)co(dot)uk
About DuPont – DuPont has been bringing world-class science and engineering to the global marketplace in the form of innovative products, materials, and services since 1802. The company believes that by collaborating with customers, governments, NGOs, and thought leaders we can help find solutions to such global challenges as providing enough healthy food for people everywhere, decreasing dependence on fossil fuels, and protecting life and the environment.
The DuPont oval logo, DuPont™, Corian®, Endless Evolution and the Endless Evolution logo are registered trademarks or trademarks or copyrighted material of E. I. du Pont de Nemours and Company or its affiliates. Other logos, trademarks and registered trademarks are a property of their respective owners. Only DuPont produces Corian®.
Media contact for DuPont™ Corian®:

Claudio Greco, DuPont Surfaces, Marketing Communication Manager (Europe, Middle East and Africa), claudio.greco(at)dupont(dot)com