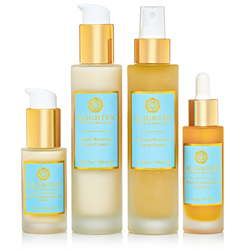 We are ecstatic to announce the launch of our natural and luxurious skin care line which is the result of years of nearly obsessive research by a self-proclaimed skin care groupie determined to create gorgeous products
(PRWEB) February 06, 2017
Alighten Natural Skin Care is thrilled to announce the launch of their luxurious, natural, and non-toxic line of prestige skin care products. This premier line of serums, oils, toners, and cleansers is carefully formulated with 100% naturally derived, vegan, and cruelty-free ingredients to provide significant skin care benefits. These clean ingredients reflect their unique dedication to gentle, high performance skin care through nature, and contain no parabens, sulfates, synthetics, artificial fragrances, artificial colors, petrochemicals, or silicones.
"We are ecstatic to announce the launch of our natural and luxurious skin care line which is the result of years of nearly obsessive research by a self-proclaimed skin care groupie determined to create gorgeous products that don't require a choice between luxurious, natural, and effective. Alighten products are designed to provide a few moments of much deserved self-care."
Alighten Natural Skin Care has made a commitment to going beyond superficial beauty to be environmentally and socially responsible. They use eco-friendly glass bottles which can be infinitely recycled, and box packaging and shipping materials made from recycled and recyclable materials. They do not test their products on animals and use only cruelty-free ingredients. A portion of every Alighten Natural Skin Care product sale is donated to a charity to help fund programs dedicated to empowering communities, children, and families to take action to become free from hunger.
Alighten Natural Skin Care was started when founder, Elaine Becker, experienced a health challenge that led her to take an honest look at her lifestyle, including the products she and her family were using on their skin every day. When she took the time to turn the bottle around and truly understand the ingredients, she was shocked to find many products contained a host of synthetic and unhealthy ingredients, which in some cases were linked to significant health concerns. This started a three year journey towards discovering healthier options and ultimately founding Alighten Natural Skin Care. Alighten's goal is to provide healthy, non-toxic skin care that doesn't require a choice between luxurious, natural, and effective.
For more information and to see Alighten Natural Skin Care's brand new site, please visit https://www.alightenskincare.com/.
About Alighten Natural Skin Care
Alighten Natural Skin Care creates natural products that are not only healthy and non-toxic, but also luxurious and environmentally and socially responsible. Alighten's priority is to create complex formulas that contain beneficial, high performance natural skin care ingredients to pamper skin the right way. Alighten strives to create beauty with inner conscience.