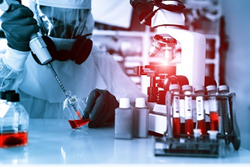 With our software platforms, there's no reason that companies should fear tackling quality assurance and process management issues
OKLAHOMA CITY (PRWEB) February 06, 2017
For almost a decade, software developed by Oklahoma City-based Sigma Blood Systems has helped the nation's blood collection industry validate its processes and meet strict government reporting requirements.
This spring, in presentations at a pair of regional and global conferences, Sigma Blood founder and CEO Max Doleh will put the focus on how software and automation technology can help organizations across many industries.
Doleh will make the case for Sigma's quality and process management software to the Southeastern Area Blood Bankers Annual Meeting in Atlanta on March 23rd, followed by a presentation on March 26th to the ISO 9000 World Conference in Nashville.
Sigma Blood Systems developed its quality assurance and process management software to help companies meet strict reporting requirements and ISO (International Organization of Standardization) standards.
"My message to the blood collection industry is that combining quality control and process automation can benefit the blood collection operation and raise both the overall quality standards and operational efficiencies at the same time while meeting stringent regulatory requirements," Doleh said. "The same quality assurance standards are just as critical for other industries that want to achieve ISO certification for their products."
In order to help a wider range of industries meet ISO compliance standards, Sigma Blood Systems has spun out another quality and process management solution called PERFEQTA. The web-based PERFEQTA software platform offers users of all technical levels the ability to rapidly construct applications and forms based on logic, conditions and procedural design without having to know how to write code.
"We see our PERFEQTA software as the perfect fit for businesses across numerous industries," Doleh said. "We already are working with companies ranging from internationally based healthcare organization to equipment manufacturing, maintenance operations, aviation fleet management and an economic development organization based in Ponca City, OK."
Doleh's presentation to the audiences will focus on how software technology and automation can help organizations of any size and industry understand ways to improve operational efficiency.
"With our software platforms, there's no reason that companies should fear tackling quality assurance and process management issues," Doleh said. "Implementing our software will assure your customers that you truly have addressed compliance and quality management issues and show concrete commitment to efficiency across multiple levels of the business."
--
ABOUT SIGMA BLOOD SYSTEMS – Based in Oklahoma City, Sigma Blood's products and services focus on meeting the needs of blood banking organizations and their specific QC requirements and FDA compliance. Its software solutions include QC Manager, SigmaQC, VisionCentric, SigmaTrace, Platelet Manager and PERFEQTA. For more information, visit http://www.sigmablood.com