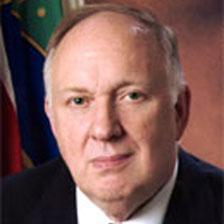 Washington, D.C. (PRWEB) February 07, 2017
ExchangeMonitor Publications & Forums and Nuclear Security & Deterrence Monitor are pleased to announce that Linton Brooks, senior adviser at CSIS and former NNSA administrator will receive the 2017 Johnny Foster Lifetime Achievement Award at the upcoming Nuclear Deterrence Summit.
Linton F. Brooks is an independent consultant on national security issues, a senior adviser at CSIS, a distinguished research fellow at the National Defense University, and an adviser to four of the U.S. Department of Energy (DOE) national laboratories. He served from July 2002 to January 2007 as administrator of DOE's National Nuclear Security Administration, where he was responsible for the U.S. nuclear weapons program and for DOE's international nuclear nonproliferation programs. Ambassador Brooks has five decades of experience in national security, much of it associated with nuclear weapons.
His government career has included service as deputy administrator for nuclear nonproliferation at the National Nuclear Security Administration, assistant director of the U.S. Arms Control and Disarmament Agency, chief U.S. negotiator for the Strategic Arms Reduction Treaty, director of defense programs and arms control on the National Security Council staff, and a number of U.S. Navy and Defense Department assignments as a 30-year career naval officer. Ambassador Brooks holds degrees in physics from Duke University and in government and politics from the University of Maryland and is a distinguished graduate of the U.S. Naval War College. He has been associated with the CSIS Project of Nuclear Issues (PONI) since its inception.
The Johnny Foster Lifetime Achievement Award recognizes a lifetime dedicated to serve the greater good and security of the nation not only as a public servant but also as a citizen, to ensure the credibility and viability of the U.S. nuclear deterrent, and for leadership that continually inspires others to achieve extraordinary goals.
The Nuclear Deterrence Summit is pleased to award this prestigious award to Linton Brooks at the upcoming event, taking place February 28-March 2, 2017 at the Capital Hilton in Washington, D.C. For more information about the summit, please visit http://www.deterrencesummit.com.