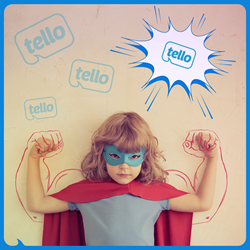 In order to get the 30% discount, former RingPlus customers need to place their order by February 12th, 2017, only after their service is active with Tello.
Atlanta, Georgia (PRWEB) February 06, 2017
RingPlus will soon be shutting down and its customers have to look for a new mobile provider. Tello, another American MVNO running on Sprint, has prepared a special offer meant to welcome RingPlus customers interested in porting in: a 30% discount on their first Tello plan for the first month. The big advantage of Tello plans is that they are custom-made: https://tello.com/buy/custom_plans.
In order to get the 30% discount, former RingPlus customers need to order their first plan by February 12th, 2017, only after their service is active with Tello. On the checkout page, they should enter coupon code RINGPLUS.
The porting process is guaranteed to be easy and friendly, especially since Tello runs on Sprint network, just like RingPlus, so most RingPlus phones will work with Tello and the porting in process will be fast and seamless.
In order to port in their number to Tello, customers need to follow a few easy steps:
1. Get their account number and password from their RingPlus Account Dashboard (when clicking Port-out/Port-in under the Account Features section, customers will find their Port-out Information in the top right-hand corner of the screen);
2. Create an account on Tello.com;
3. Go to Bring Your Own Phone page and enter their ESN/IMEI/MEID;
4. Former RingPlus customers don't need a new SIM, because the one they had with RingPlus will work with Tello, too;
5. Enter their phone number (if customers don't want to keep their old RingPlus phone number, they can get a new one from Tello).
The port in process usually takes 2 working days, but due to the high volume of requests, it may take longer than usual these days. However, Tello's customer service team is available 24/7 for any questions or issues.
Tello is proud to offer a clean, up-front service with no fees whatsoever. Its plans are fully customziable, as the customers can choose any amount of minutes, texts, and data, including Pay As You Go credit, that can even be used to make international calls. Plans are automatically renewed every 30 days, while Pay As You Go credit never expires.
The national minutes included in plans are also valid for calls to Canada and Mexico. Plans can be upgraded, downgraded, or renewed at any time, for no charge at all. Customers are free to stay as long as they like with Tello, as the service doesn't involve any contracts. Another perk of the service is free tethering: Tello customers can share data free of charge with other devices.
About Tello:
Tello is a telecom provider operating on the US market. It is also present in the UK, serving customers through its Tello.co.uk website. Both Tello.com & Tello.co.uk are designed by KeepCalling, a global telecommunications company registered in 2002 in USA. Presently, KeepCalling provides its services to hundreds of thousands of consumers and businesses, with a focus on customer satisfaction. KeepCalling was listed by Inc 5000 as one of the fastest growing companies in the USA for 5 consecutive years.