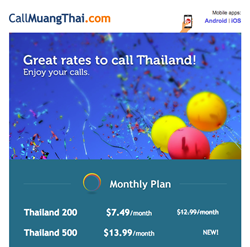 I have been using the service from CallMuangThai for a year or so. I like their business. it is fast, no hassle. Most of all, it is fair and reliable. (Cherd Viroonphun on Trustpilot.com)
Atlanta, Georgia (PRWEB) February 08, 2017
CallMuangThai.com, the platform dedicated to the Thai diaspora worldwide, announces 40% rate decrease on calls to Thailand from anywhere in the world. This is possible with Thailand 200 monthly plan, which offers 200 international calling minutes for as little as $5.49 / month. It takes seconds to activate Thailand 200 and start making calls to landlines and mobiles in Thailand, any time, at the same rate of 2.7 cents/minute, cheaper or equal to a local calling rate. No contract is required to benefit from this rate and service, free features and loyalty points are also included. The purchase is safe and it takes seconds for anyone to get the calling credit online, no matter his or her experience with online purchases: https://callmuangthai.com/product/monthly_plan
Thailand 200 is a flexible plan for several reasons:
It includes 200 minutes to call mobiles and landlines; all calls have a unique rate: 2.7 cents/minute.
It can be deactivated and re-activated whenever necessary, with no penalties.
Plus, the calling balance can be used to make calls in 3 different ways:
1. From any phone, through the use of local access numbers
2. From KeepCalling app for smartphones available for iOS and Android devices
3. From any laptop or computer, using the Web Call application for desktop, which is available in one's account on CallMuangThai.com
Payment is accepted in any currency, with any of the major cards displayed on the website, as well as PayPal. CallMuanThai.com safety system is certified with "Verified & Secured" and the customer satisfaction validated by BBB and Trustwave.
The lowest rate to call Thailand though is 2 cents/minute. This is available with the newly launched Thailand 500 monthly plan, for those more talkative who need 500 international minutes to call Thailand on a monthly basis. Thailand 500 monthly plan was launched on January 26, 2017, and includes 500 international minutes to call both landlines and mobiles in Thailand at any time, during a billing cycle. The plan is flexible. It can be deactivated and re-activated whenever necessary, which makes it very friendly with customer expectations and needs.
Those who need credit to call Thailand occasionally may find the Voice Credit service on CallMuangThai.com more suitable. The balance never expires, and calling is possible for other destinations besides Thailand. Those who choose Voice Credit as the only international calling service or as their complimentary service to Thailand 200 or 500 plans, benefit from the same advantages like those using a monthly plan:

free features to make calls easier to place
loyalty points on each purchase for future gift calls
According to reviews on Trustpilot.com and other review platforms, CallMuangThai.com is appreciated by expats for certain aspects that differentiate it from other calling and top up services on the global market:

Having an account is free
There are no hidden fees
Invoices and call records are available in one's account
Thank you points are added automatically for every purchase on the website
No contract is needed for any transaction
Customer Support is open 24/7 and is highly responsive
The website is labeled as "Verified and Certified" for safe online payments
Payment is possible with all major cards, as well as Paypal
Free calling features are available in one's account to make calling even easier than it already is: PINless Dialing, Speed Dial, Auto Recharge, etc
Payment is possible in any currency, according to the bank account of every customer.
All invoices are available in one's account, and calling history is displayed for the last 30 days.
Besides the calling service, CallMuangThai.com offers Thai expats worldwide Mobile Recharge. The service is most useful for those who want to send mobile credit to someone in Thailand, in seconds, using the website directly. The mobile top up can be made from PC, tablet and even smartphone, since the website is mobile friendly. The distance does not influence the processing fee, which is the lowest on the global market. For the moment, anyone living in Thailand can receive credit from abroad if they use prepaid balance/ products from the following operators in Thailand: AIS, DTAC and TrueMove.
CallMuangThai.com is an interactive website serving the Thai diaspora worldwide. The website is a brand of KeepCalling, a global telecommunications company registered in 2002 in USA, that has launched the First International Homesickness Day in history. Presently, KeepCalling provides its services to hundreds of thousands of consumers and businesses, with a focus on customer satisfaction. KeepCalling was listed by Inc 5000 as one of the fastest growing companies in the USA for 5 consecutive years.