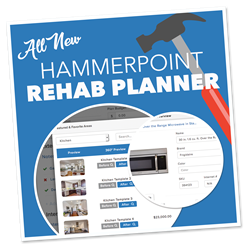 Parma Heights, OH (PRWEB) February 07, 2017
Today, Realeflow, a software company that creates solutions for residential real estate investors released a revolutionary new tool called the Hammerpoint Rehab Planner.
The Hammerpoint Rehab Planner is a tool that allows real estate investors to quickly plan renovation projects. This is traditionally a time-consuming and difficult process, especially for new investors.
According to Realeflow CEO Greg Clement, "Our entire company is focused on helping real estate investors make a lot more money with less effort - and the new Hammerpoint Rehab Planner does just that by compressing 8-10 hours of work into less than 20 minutes. Home remodelers, rehabbers, and flippers' jobs just got a whole lot easier!"
The Rehab Planner will give investors direct Home Depot catalog access to choose and import material details quickly. One of the most anticipated features of the new Rehab Planner is the Room Preset Templates that allow an investor to view and use the materials and work notes from profitable rehabs done from around the country.
"The importance of having the right materials and directions for the contractor can be the difference between profit or loss," said Clement. "Pick the wrong materials and it won't sell quickly. Provide the wrong instructions, or not enough instructions and project timelines and costs can quickly get bloated."
Residential rehabbing has been growing steadily in the United States, especially this past year. According to RealtyTrac, now ATTOM Data Solutions, the number of investors who completed one or more flips reached a 9-year high during the second quarter of last year.
About Realeflow, LLC: Realeflow, LLC is an all in one software solution for real estate investors located in Cleveland, OH. Founded in 2006, Realeflow has helped over 35,000 real estate investors close over $10 billion in real estate deals. Realeflow has received several awards over the years, including making the list of Outside Magazine's Top 50 Best Places to Work 7 years in a row.