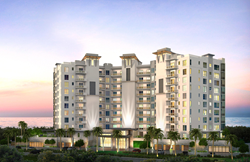 "We have an incredible opportunity to create a truly special lifestyle experience for buyers who want the level of customization, finish and luxury appointments of a London Bay home, while also enjoying the freedom of condominium living."
Fort Myers Beach, FL (PRWEB) February 07, 2017
London Bay Homes is introducing the newest multifamily residential project at Waterside at Bay Beach: Grandview, named for its panoramic views of the Gulf of Mexico and Estero Bay. Located just two miles north of Lovers Key State Park, Grandview at Bay Beach will be the first condominium tower in South Fort Myers Beach since 2008, and the final tower in Waterside at Bay Beach.
"Grandview at Bay Beach is an exciting project for us," said Mark Wilson, president and CEO of London Bay Homes, which has been named America's Best Builder by Builder magazine. "We have an incredible opportunity to create a truly special lifestyle experience for buyers who want the level of customization, finish and luxury appointments of a London Bay home, while also enjoying the freedom of condominium living."
Grandview at Bay Beach will feature a modern, 11-story building designed by Bob Hall of Curts Gaines Hall Jones Architects of Tampa. The building will offer approximately 58 units with private elevator access; six of those units will be exclusive penthouses with 11-foot ceilings and two covered parking spaces per unit.
The homes will feature London Bay's award-winning architecture and design in either a three-bedroom, or a three-bedroom-plus-den, and three-bathroom floor plan, within 2,300 to 2,800 square feet of living space.
Amenities at Grandview at Bay Beach will include a club room with fitness center and yoga room, men's and women's changing rooms, a catering kitchen and a large lanai with a bar. A distinct feature for residents will be two guest suites with lounge areas for their guests to enjoy privacy and access to Grandview's amenities.
Outdoor amenities will include access to a resort-style pool and spa, barbeque area, elevated entertainment area featuring a fire pit with seating, and a 55-acre nature preserve with three miles of walking paths and nature preserve trails.
The sales center is expected to open March 2017.
A leader in the Southwest Florida home market for 26 years, London Bay Homes has been named America's Best Builder by Builder magazine and has earned more than 300 industry awards.
Its commitment to Private Label Living ensures quality, attention to detail, and homes that are a unique expression of their residents' personalities and unique tastes.
The company builds new luxury custom homes priced from $1 million to more than $10 million in many of the region's most exclusive neighborhoods and communities. The company also builds private residences on individual homesites near downtown Naples, the Sarasota Keys and along the Gulf of Mexico.
Pre-release pricing opportunities for Grandview at Bay Beach are now being accepted at http://www.GrandviewBayBeach.com or call 866-410-7485.