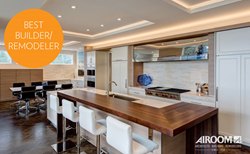 This award speaks to our team's dedication to each and every project.
Lincolnwood, IL (PRWEB) February 07, 2017
Airoom announced today that it has been named the Top Design-Build Remodeling Firm in the nation according to the National Kitchen and Bath Association (NKBA). The announcement was made at the IBS and KBIS where 75,000 attendees were present. Airoom also garnered the award for "Top Large-Sized Kitchen" for its Lakefront Wilmette Kitchen Remodel.
"We're honored to be named Remodeler of the Year by the NKBA," said CEO Mike Klein. "It's truly rewarding to see the team come together here, as they do for all of our projects, and get recognized for their hard work."
The client's vision for the Award-Winning Wilmette home was for the kitchen and butler's pantry to be a new space with a more open feel and increased exposure to the beautiful lakefront views. Among the top priorities for the homeowners was to create a more cohesive space between the kitchen and the family room, so that they would flow more naturally into one another. They also wanted the kitchen to have a warm and inviting, yet modern and stylish feeling.
There were many challenges to accomplish the homeowner's wishes, including utilizing the large space available efficiently, keeping the existing wood flooring, and working around a massive break-through from the kitchen into a family room. Airoom's team includes many of Chicago's best Architects and Designers, so those challenges were successfully addressed, resulting in the client's ideal remodel.
The process involved the Airoom team installing a large structural beam to replace the large break, which in turn allowed the kitchen and family room to be opened up. Being careful to maintain the existing hardwood floors, Airoom's designers reoriented the kitchen so that cooking preparation and clean up could be completed on a large kitchen island, while facing the amazing view of the family's private backyard beach. LED-lit coves were used to maximize the light in the room and floating wall cabinets with open shelving were used to emphasize the openness of the space. Hidden niches provide additional storage options, including a hidden drink refrigerator, while a carved limestone backsplash serves as a focal point behind the range.
With the design coming together as it did, and the many challenges there were to overcome, it was no surprise that the Airoom team was honored by the NKBA for their achievements.
"This award speaks to our team's dedication to each and every project," Klein said. "While this is a great recognition to add to our list, the most rewarding part of any project is the family stepping into their newly remodeled home."