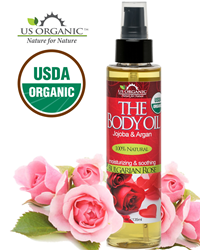 Passaic, New Jersey (PRWEB) February 09, 2017
Valentine's Day is dedicated to showing love and affection, while doing special things for others, but it also should be about self-reflection and personal time. Looking and feeling good is especially important around Valentine's Day and pre-date pampering is essential—facials, manicures and beauty products are usually on the to-do list for many. To that end, treating the skin and body with healthy and natural ingredients is a must.
Many have a regular skincare regimen from head to toe, and the average person actually uses approximately ten different skin products on his and her body each day. In pursuit of new skincare products this Valentine's Day? Healthy, natural and organic products should be at the top of the list.
Love Labels:
From lotion and body oil to face wash and foundation, understanding product ingredients is crucial. Generally speaking, if it's hard to pronounce it, ditch it; ingredients should be few and recognizable. Be careful not to fall for beauty jargon. For example, if something says "Dermatologist tested," it doesn't necessarily mean that the product is endorsed or suggested by a dermatologist. And finally, be careful for misleading labels. Some brands list preservatives as fragrances and categorize ingredients as something they are not.
Organic Equals Better:
In addition to reading and understanding labels, search for products that are organic. Organic skincare products are made of plant-derived ingredients and they are grown without synthetic fertilizers or pesticides. Organic products are heavily regulated and often subject to rigorous inspections. And while these products are better for the skin, they are also better for the environment.
Don't be Fooled by Fake
In order to be consider "100% organic," a product must contain (excluding water and salt) only organically produced ingredients, but it is not uncommon to see labels containing the word "organic" when they are not in fact organic by industry standards. Only USDA certified products and companies are allowed to use the term 'Organic' on labels, packaging and displays, so reading labels before buying products that claim to be organic is more important than ever.
US Organic, a manufacturer and marketer of certified organic products, has the prefect product line for Valentine's Day—five unique Body Oils available in Bulgarian Rose, Caribbean Coconut, Lavender, Orange and YlangYlang. Using only pure, organic and 100% natural ingredients to gently treat and nourish the skin, there is no label confusion with US Organic products. And if massages and silky skin are top of mind this Valentine's Day, US Organic is the solution. This luxurious line of Body Oils will leave skin feeling noticeably healthier and conditioned, plus the entire product line is certified "Cruelty Free" by the Leaping Bunny Program and made in the USA. US Organic's Body Oils are available in 5 ounce bottles and retail for $14.99 at http://www.us-organic.com.
About US Organic
US Organic uses powerful, healthy and natural ingredients to gently treat and nourish the skin. The company has extended its product line to organic repellents, body oils and baby oils. A certified organic products' manufacturing company, US Organic appreciates what nature has provided us—powerful yet gentle ingredients. Our mission is to provide the best and safest products that are in harmony with nature. More info can be found here: http://www.us-organic.com.