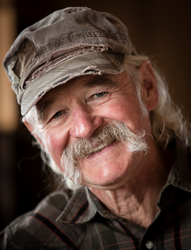 Kilcher's literary agent Sandra Bishop of Transatlantic Agency remarks: "I'm honored to have worked with Atz on this book and we couldn't be happier about placing it in the hands of Blackstone."
Ashland, OR (PRWEB) February 13, 2017
Blackstone Publishing is thrilled to announce the acquisition of SON OF A MIDNIGHT LAND, a powerful new memoir by Atz Kilcher about growing up with a hard father in a hard land. Known to many as the patriarch of Discovery Channel's Emmy-shortlisted program Alaska: The Last Frontier, Kilcher is also an artist, a writer, a musician, and the man who taught his daughter, music superstar Jewel, how to sing.
Atz Kilcher reflects, "Publishing seems much like many of the jobs I did on a regular basis growing up on my family's homestead—like gathering coal for our family's cook stove. It's a simple idea, but one which requires a lot of steps. When we needed fuel, I'd go to the pasture to catch the horses; hook the team to the wagon or sled; drive it down the rutted road to the beach; then gather, heave, and haul the heavy load back up the steep hill toward home where the horses had to be tended to before I could finally offload the coal in its place under a tree, then chop some small enough to fit into our stove. Simple idea, with lots of steps that required time and work, and dedication. I'm really glad to have landed in the hard-working hands of the folks at Blackstone who seem to have no qualms about working hard and doing what it takes to get a job done right. I think we're going to make a really good team."
Kilcher's tough upbringing in the Alaskan frontier is described vividly in this memoir. His mother, a cultured Swiss woman, struggled to adapt to the family's new way of life, far from civilization, while his father was determined to make their new life work. Kilcher reflects on the survival skills and habits he took on because of this upbringing—some that served him well and others from which he later had to learn to free himself in order to become a better man and a good father to his own children.
Kilcher's reckoning with his unusual childhood builds with each chapter of SON OF A MIDNIGHT LAND, offering readers a realistic look at the emotional price he paid for his father's dream to homestead in Alaska's remote wilderness.
A determination to map his own inner wilderness using new tools—brutal honesty, vulnerability, forgiveness, acceptance, and building upon the good—helps Kilcher restore his optimism. The memoir also highlights how he is now able to draw closer to his adult children, seeking ways to become a true guide to them and pass on an enhanced version of his parents' courageous legacy.
Progressive reflections of his most poignant memories bridge a lifetime: from the effects of cabin fever he watched his mother endure to the mutual softening of souls at his father's deathbed. Throughout the memoir, Kilcher's message builds to the ultimate revelation that his father's harsh manner was essentially fallout from his own fear of failure. Forgiveness begins when Kilcher realizes his father loved his family beyond measure, but that relational intimacy was a luxury he simply didn't have time for. Letting his father off the hook sets Kilcher free to optimistically cultivate the good things—and the good land—his father worked so hard to create.
Atz Kilcher's literary agent Sandra Bishop of Transatlantic Agency remarks, "I'm honored to have worked with Atz on this book and we couldn't be happier about placing it in the hands of Blackstone. We are all confident that his unique story will be handled masterfully by Blackstone and happy that the audio and print versions will be launched so seamlessly. Atz's gift as an orator combined with his passion for writing make this a great match. And hats off to Vikki Warner for recognizing that Atz's story is well positioned to help launch Blackstone's non-fiction print line."
Look for more information on Blackstone Publishing titles in print and e-book format to be announced soon. Visit http://www.blackstonepublishing.com/son-midnight-land-atz-kilcher for more information.