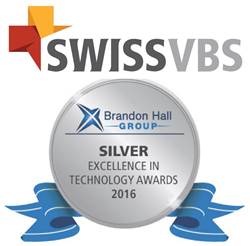 learning reinforcement is fundamental to ensure that the investments we have made in corporate training programs are not lost to memory leakage
Toronto, Ontario (PRWEB) February 07, 2017
SwissVBS, a leading learning solutions provider, won a coveted Brandon Hall Group Silver award for excellence in the "Best Advance in Performance Support Technology" category. Its ECHO Platform was the only mobile learning reinforcement technology to receive an award on January 26, 2017.
Shahin Sobhani, SwissVBS President, said "learning reinforcement is so fundamental to ensure that the investments we have made in corporate training programs are not lost to memory leakage." He also thanked his team at the award ceremony for delivering a unique reinforcement experience.
"We congratulate SwissVBS for leading the way in using mobile and cloud technologies to address the issue of learning retention," said Rachel Cooke, Chief Operating Officer of Brandon Hall Group and head of the awards program. Brandon Hall Group CEO Mike Cooke added "effective learning reinforcement can have a significant impact on the long term success of any training program."
The ECHO learning reinforcement platform was recognized for its ability to offer a solution that combines mobile, cloud and artificial intelligence to make learning durable. By combining well-timed reinforcement practices, dynamic quizzes and mobile push notifications, ECHO improves learning retention. ECHO can substantially boost the outcomes of most corporate training programs.
A senior panel of independent industry experts, Brandon Hall Group analysts and executives evaluated the entries based upon innovation, value proposition, unique differentiators, measurable benefits, and usability.
For more on the Excellence Awards: http://www.brandonhall.com/excellenceawards
For more on ECHO: http://swissvbs.com/en/echo/
About SwissVBS
SwissVBS is a full-service learning solutions provider, focused on adding value at every step of the learning journey.
Companies in industries as diverse as health, retail, insurance, manufacturing, and finance rely on SwissVBS' innovative products and services to improve employee performance and business outcome (http://www.swissvbs.com).
About Brandon Hall Group, Inc.
With more than 10,000 clients globally and 20 years of delivering world class research and advisory services, Brandon Hall Group is the most well-known and established research organization in the performance improvement industry. Brandon Hall conducts research that drives performance, and provides strategic insights for executives and practitioners responsible for growth and business results (http://www.brandonhall.com).