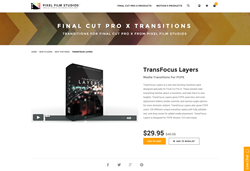 TransFocus Layers gives editors 120 different transition styles which can be fully customized in a matter of seconds right inside of Final Cut Pro X
Aliso Viejo, California (PRWEB) February 11, 2017
"TransFocus Layers gives editors 120 different transition styles which can be fully customized in a matter of seconds right inside of Final Cut Pro X," said Christina Austin - CEO of Pixel Film Studios.
TransFocus Layers for FCPX comes with 120 differently styled presets. Each preset includes desaturation and blur controls for added style & realism. Each & every preset is easy to use for any skill level FCPX user. The application process is simple, just drag & drop between the desired clips, and stretch to the desired duration.
TransFocus Layers is a universal transition pack. TransFocus Shapes can be used with any style of project, and can be styled to the users liking. TransFocus Shapes gives users the ability to add simple tiered wipes, or dramatic kinetic panels transitions by easily adjusting a few sliders in the inspector window.
TransFocus Layers includes fully editable text for the user to place into each preset. Each message includes a set of keyframe-less animations for each text reveal, including zoom in animations to simplefade-ins. TransFocus Layers gives the FCPX user the ability to convey messages in between shots quickly and easily.
TransFocus Layers is a unique set of transition presets, designed exclusively for Final Cut Pro X. TransFocus Layers includes 120 different preset styles, with blur and camera angle controls, editable text, and more. FCPX Users simply select the desired style and apply. TransFocus Layers is designed for FCPX version 10.3 and newer.
Established in 2006, Aliso Viejo, California-based Pixel Film Studios is an innovative developer of visual effects tools for the post-production and broadcast community. Their products are integrated with popular non-linear editing and compositing products from Apple FCPX. Apple, the Apple logo, Mac OS X, and Macintosh are registered trademarks of Apple Inc. in the U.S. and/or other countries. All other trademarks and trade names are the property of their respective owners.