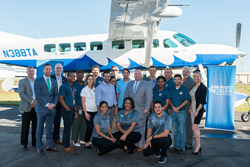 "We are excited to offer students the opportunity to take advantage of our partnership with Broward College, serving as a stepping stone to launching their career in aviation," said Rob Ceravolo, Tropic Ocean Airways CEO.
FORT LAUDERDALE, FL (PRWEB) February 07, 2017
On Thursday, January 19, Broward College celebrated the opening of its new Aviation Annex, a 13,500 square foot facility, which houses four classrooms, faculty offices, and shop space at North Perry Airport. The launch of a new partnership with Tropic Ocean Airways was announced during the event. By joining forces with the airline company, students and graduates will be provided with a vast amount of job opportunities within the aviation industry.
"Within the last two years, our Aviation Institute has grown into a comprehensive program which offers students support from their first class to their first day on the job," President J. David Armstrong, Jr. said. "The sky is the limit for what students can achieve, and the newly opened Annex and agreement with Tropic Ocean Airways are the latest exciting developments which will further create a well-educated and highly skilled workforce."
The College marked the occasion with a ribbon-cutting ceremony attended by members of Pembroke Pines City Commission and other supporters of the institution. Guests toured the new classrooms and workshops, and posed in front of the Cessna Grand Caravan flown into the event by Tropic Ocean Airways.
"We are excited to offer students the opportunity to take advantage of our partnership with Broward College, serving as a stepping stone to launching their career in aviation," said Rob Ceravolo, Tropic Ocean Airways CEO. "By extending the benefits of our partnership with Silver Airways and Frontier Airlines, students will have a clear path towards establishing themselves as well-trained aviation professionals."
During his remarks, Ceravolo introduced three graduates of the Aviation Institute who were recently hired by the company. Audrey M. Wiggins serves as the airlines operations-dispatch supervisor, Gabriel Vasquez has recently joined Tropics Maintenance Team, and Jimmy Davis is one of their seaplane captains.
Tropic Ocean Airways solidified its relationship with the Aviation institute in the form of a Memorandum of Understanding (MOU). The two-year, non-binding agreement opens the door for potential job openings for Broward College graduates as future pilots, mechanics or as members of operations personnel. Other opportunities will include the creation of an internship program and corporate training plans, as well as future recruiting, career center involvement and curriculum development.
"These initiatives are important in strengthening the connection between business and industry with education," Russell McCaffery, Dean of Transportation Programs, Aviation Operations said. "We are grateful to have supporters like Tropic Ocean Airways, along with the addition of such a beautiful state-of-the-art facility. We've had a regular waitlist of 150 students over the years for our Aviation Maintenance Management program so this expansion was much needed."
According to data acquired by the Greater Fort Lauderdale Alliance, the aviation industry is a multibillion-dollar sector in Broward County. In recent decades, Fort Lauderdale-Hollywood International Airport (FLL) has grown into a major transportation complex that now provides more than 139,000 direct and indirect jobs and boasts an economic impact of more than $13.2 billion, and the Bureau of Labor Statistics data reported the median annual wage for aircraft and avionics equipment mechanics and technicians to be around $58,390.
Graduates from Broward College aviation programs have filled these high-wage, in-demand positions in South Florida for the more than 50 years. Established in 1966, the Broward College Aviation Institute is the only public facility in Broward County dedicated to the training of aviation professionals. The Institute currently offers Associate in Science degrees in aviation administration with four areas of specializations, as well professional pilot technology and aviation maintenance management. It also has certificate programs in airport management, avionics vocational, airport airframe mechanics, aircraft power plant mechanical and commercial flight operations. In 2016, the Institute marked another milestone when the Florida State Board of Education approved a new Bachelor of Science in Aerospace Sciences.
The Broward College Aviation Institute is located on South Campus at 7200 Pines Boulevard in Pembroke Pines, adjacent to North Perry Airport. Tours and information sessions are hosted Tuesdays at 9 a.m. and Thursdays at 3 p.m. For more information or to make an appointment, visit http://www.broward.edu/academics/programs/aviation.
Photo ID (High resolution images available via https://www.dropbox.com/sh/968puk8t6rs1s6t/AABQ-1jYM2FmlxG5fZVq5DyMa?dl=0)
About Tropic Ocean Airways:
Tropic Ocean Airways is the Eastern United States leading seaplane travel company that offers private charter, scheduled service and cargo services throughout South Florida, the Florida Keys, Bahamas and beyond. The FAA certified air-carrier was founded by Navy TOPGUN fighter pilot Rob Ceravolo in 2009. Since inception, the safety measures have awarded Tropic, the ARGUS gold rating for safety, a perfect record of zero FAA violations and a 5-star rating on TripAdvisor. The premier company has its own in-house maintenance team and facility, along with pilots who bring over 100+ years of combined flying experience in harsh and tropical weather conditions, who work together to deliver the highest level of first-class customer service during each flight. The factory-new seaplane and wheeled caravan aircraft can perform water-based, or runway landings and departures, making Tropic the ideal choice for travel.
For more information, contact Alina Gavrushenko, Director of Marketing at 800.767.0897, extension 122, or via email at ashenko(at)flytropic(dot)com visit us: http://www.flytropic.com
About Broward College:
Serving more than 63,000 students annually, Broward College provides residents with certificate programs, two-year university-transfer degrees, two-year career degrees and baccalaureate degrees in selected programs. The mission of the college is to provide high-quality educational programs and services that are affordable and accessible to a diverse community of learners. For more information, visit http://www.broward.edu.