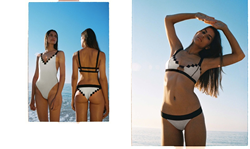 Los Angeles, CA (PRWEB) February 07, 2017
Lisbon-based Maison Pixel launches its debut, swimwear collection for Spring-Summer 2017 highlighting both the brand's digital lifestyle inspired designs and commitment to socially responsible fashions. Effortlessly sexy, it features the brand's bold signature look of "pixel" graphics and other details depicting vintage computer graphics that translate internet culture into reality. For its introduction, Maison Pixel swimwear declares "Go outside. The graphics are amazing!" and offers two-piece bikini and maillot styles in three colors Meeseeks teal pixel, Stimpy's Nose blue pixel, and Zoidberg Pink pixel with Classic Pong white versions coming out soon.
With its firm dedication to ecological sustainability, the Maison Pixel swimwear pieces are made with a unique Italian lycra composed of 100% recycled plastic bottles gathered from ocean debris and blended by fabric company Carvico, which holds the highest EU certification in environmental standards. This supple material is then laser cut and meticulously manufactured superior comfort and manufactured with exceptional care in Portugal. Maison Pixel takes pride in going above and beyond other brands that use organic materials. With every product, the brand takes into account the entire life-cycle of the pieces from its carbon footprint to the livelihoods of the people who manufacture them. Aside from using sustainable materials, equal considerations are given to manufacturing free of child labor, a respect for workers' wages and rights. Additionally, for every swimwear sold, Maison Pixel donates $1 USD to Camfed, the international non-profit organization tackling poverty and inequality by investing in girls and women in the poorest rural communities in Sub-Saharan Africa and supporting their education and helping open opportunities for them.
Maison Pixel was conceived by graphic designers, and self-proclaimed geeks and gaming enthusiasts Cesária & Sebastião to provide design and functionality with artisanal flair, social and ecological awareness in a fashion brand for the digital generation. The Maison Pixel Swimwear collection retails - two-piece bikini $78.90, and single maillot $88.90 at maisonpixel.com. "You provide the hardware. We deliver the softwear™".