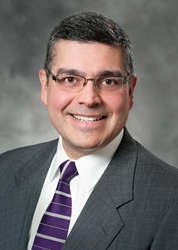 Through Zocdoc patients will be able to identify the type of physician they need to see, view the most immediate appointments for those doctors and select the most appropriate and convenient option for them.
Kansas City, Mo. (PRWEB) February 06, 2017
Building on its deep history of innovation, Saint Luke's is launching real-time online appointment booking and verified physician reviews, offering existing and new patients seamless, anytime access to Saint Luke's physicians. Powered by national digital health marketplace Zocdoc, Saint Luke's is first health system in the region to offer this online scheduling technology.
Through this partnership, patients will be able to effortlessly find and schedule appointments with participating Saint Luke's doctors any time of day, even when the office is closed. In fact, forty percent of appointments scheduled via Zocdoc are booked outside of typical business hours. Not only does the new Saint Luke's-Zocdoc partnership make the process of finding a doctor and booking an appointment more seamless, it also makes it much faster. The typical patient booking via Zocdoc sees a physician within 24 hours – compared to a national average wait time of nearly three weeks. Zocdoc makes this possible by uncovering the 'hidden supply' of appointments in doctors' calendars caused by last-minute cancellations and reschedules – and surfacing this availability to patients seeking care.
"Saint Luke's Health System is committed to increasing access to care, improving patient satisfac-tion and serving our patients in the way most convenient for them," said Len Lozada, M.D., Saint Luke's Health System chief physician executive. "Through Zocdoc patients will be able to identify the type of physician they need to see, view the most immediate appointments for those doctors and select the most appropriate and convenient option for them. We believe this will not only increase timely access to care but also directly improve the patient experience."
To use the free service, Saint Luke's patients can visit https://www.zocdoc.com/hospitals/saintlukeskc or Zocdoc.com. Mobile users can download the free Zocdoc iPhone or Android app. There, patients can search for providers by insurance and zip code, read professional profiles and verified patient reviews, see doctors' real-time availability, and make appointments instantly online. At launch, more than 25 different specialties – including primary care, ob-gyn, cardiology, neurology, family medicine and more – are bookable via the online service across nine of Saint Luke's locations in Kansas and Missouri.
Patients can use Zocdoc Check-In to speed through the paperwork process too. Their online health information forms can be completed online prior to their first appointment, saving time for patients and providing physicians with more complete and accurate patient information.
"In the complex world of health care, patients are looking for greater simplicity and modern, digital experiences," said Oliver Kharraz, M.D., Zocdoc founder and CEO. "We're proud to partner with Saint Luke's to bring online appointment booking and seamless, any-time access to patients in Kansas City."
Saint Luke's is the latest progressive health system to partner with Zocdoc in a string of significant enterprise partnerships for the digital health company. This growth mirrors the industry trend of healthcare consolidation, transforming digital health into an enterprise endeavor and allowing com-panies like Zocdoc to bring new solutions to patients faster and at scale.
About Saint Luke's Health System
Saint Luke's Health System consists of 10 area hospitals and campuses as well as multiple primary and specialty care practices, and provides a range of inpatient, outpatient, and home care services. Founded as a faith-based, not-for-profit organization, our mission includes a commitment to the highest levels of excellence in health care and the advancement of medical research and education. The health system is an aligned organization in which the physicians and hospitals assume responsibility for enhancing the physical, mental, and spiritual health of people in the metropolitan Kansas City area and the surrounding region.
About Zocdoc
Zocdoc is the tech company at the beginning of a better healthcare experience. Each month, millions of patients use Zocdoc to find in-network neighborhood doctors, instantly book appointments online, see what other real patients have to say, get reminders for upcoming appointments and preventive checkups, fill out their paperwork online, and more. With a mission to give power to the patient, Zocdoc's online marketplace delivers the accessible and simple experience patients expect and deserve. Zocdoc is free for patients and available across the United States via Zocdoc.com or the Zocdoc app for iPhone and Android.