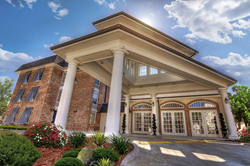 This opening marks our sixth community in the Greater Houston Metropolitan area in addition to our two hospice sites and home care services.
HOUSTON, TX (PRWEB) February 06, 2017
Silverado today announces the acquisition of a skilled nursing facility that soon will also begin to provide the industry-leading memory care for which the company is known. The new community, Silverado Hermann Park Memory Care and Rehabilitation, is located in Downtown Houston at 5600 Chenevert Street.
Situated near the Texas Medical Center within the medical loop – which includes Methodist Hospital, Memorial Hermann Hospital and MD Anderson, among other renowned hospitals and clinics – the community will serve approximately 50 people with memory-impairing conditions. In addition, its skilled nursing rehabilitation will serve patients with and without memory impairment; and Silverado Hospice will provide general in-patient hospice care (GIP) at the three-story, 80-bed community.
"Over the years valued professionals have asked us to open a Silverado memory care community in the Houston Medical Center area. We're excited for the ability to respond to these requests and welcome this new community into the Silverado family, allowing us to make a positive impact on even more lives. This opening marks our sixth community in the Greater Houston Metropolitan area in addition to our two hospice sites and home care services," says Silverado President, CEO and Chairman Loren Shook. "I'm incredibly proud of our world-class team that makes it possible for us to significantly improve quality of life for the individuals we serve, their families and our associates."
With 20 years of dedicated experience caring for people with memory loss of all types, Silverado operates through a distinct care model that combines the social benefits of a community lifestyle with the support of world-class clinical care. Most recently, the company developed Nexus, a program for people with early-stage dementia based on new research revealing that there may be ways to slow its progression.
The addition of Silverado Hermann Park comes just weeks after the company announced the acquisition of three other Texas communities, one each in Cedar Park, Houston and Plano. Each of those properties, previously owned by U.S. Memory Care, features approximately 57,000 square feet of space designed to serve as many as 90 residents.
In addition to memory care, Silverado offers hospice and in-home care throughout Texas, and maintains a strategic alliance with Kelsey-Seybold in Houston.
###
About Silverado
Silverado was founded in 1996 with the goal of enriching the lives of those with memory loss by changing how the world cares for people with cognitive decline. Establishing this mindset as the foundation allows Silverado to operate in a way that provides clients, residents and patients with utmost dignity, respect and quality of life. Silverado has grown to become a nationally recognized provider of home care, memory care assisted living and hospice services. With 52 locations, the company delivers world-class care across Arizona, California, Illinois, Texas, Utah, Washington and Wisconsin. Learn more at silveradocare.com or call (866) 522-8125.
MEDIA CONTACT:
David Gill
(714) 624-2550
dgill(at)silveradocare.com