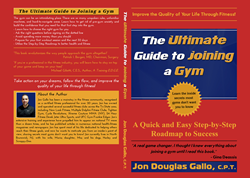 "This book revolutionizes the way people approach the gym altogether!" Patrick I. Borgen, MD, Chairman, Surgery
New York, NY (PRWEB) February 07, 2017
Jon Douglas Gallo to Release Book, The Ultimate Guide to Joining a Gym
Fitness professional and entrepreneur Jon Douglas Gallo releases his first book, The Ultimate Guide to Joining the Gym, which revolutionizes the approach for finding and joining a gym.
Celebrity trainer, gym owner, and co-founder of fitnesslane.com, it was only a matter of time before Gallo added author to his list of accomplishments. Setting himself apart from traditional fitness books, Gallo creates a complete step-by-step guide in which he shares the essential stages of connecting people with fitness.
"Many people are uneasy about starting a fitness program or joining a gym because it is intimidating and they have a fear of the unknown. I want my audience to know this book is about educating and informing people. I want it to help them get comfortable with getting started, by knowing what to expect from themselves and from the gym experience," said Gallo.
Starting with a successful mindset, to knowing what to expect when visiting the different types of gyms, to doing a 30-day trial, there is not a stage missed, nor a question gone unanswered in the book.
"I vowed to one day give back on a high level, to ease the minds of all my fans, friends, and family. To let them know the truth of what lies behind closed doors and to share the secrets of the billion-dollar industry they know as the gym business," said Gallo.
By the end of the book people will know personalized fitness goals and what makes them important to the individual, the type of gym best suited for them, questions to be asked when visiting gyms, and the right formula for success in reaching those goals. Not to mention valuable time and money saved, said Gallo.
Former client Dr. Patrick Borgen says,
"This book revolutionizes the way people approach the gym altogether!"

Patrick I. Borgen, MD, Chairman, Surgery
Gallo's guide shares the necessary tools needed to learn how to easily make the move to find the right gym, at the right price, in the right location and fulfill all of your fitness needs.
For more information contact Jon Gallo at JonGalloFitness(at)gmail.com. Be sure to check out the book, available now, at Amazon.com: https://www.amazon.com/Ultimate-Guide-Joining-Step-Step-ebook/dp/B01MYFJC19/ref=sr_1_1?s=books&ie=UTF8&qid=1486387003&sr=1-1&keywords=the+ultimate+guide+to+joining+a+gym
###