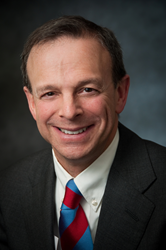 Forward-thinking brokers and attorneys alike should see large-scale, high-stakes deals as a team sport—and play to win
Newark, NJ (PRWEB) February 08, 2017
When attorneys leave their egos at the door and work with brokers as a team on commercial real estate deals, they are more likely to deliver better results for their clients, advises David C. Freinberg, a shareholder in national law firm LeClairRyan, in a Feb. 2 column published by GlobeSt.com.
But that doesn't mean it always works that way.
"In my 30-year career, I have run across plenty of lawyers who, perhaps out of arrogance or shortsightedness, deemphasize collaboration," writes Freinberg, who is based in the firm's Newark office. "Operating as though they were being handed a baton in a relay race, they essentially say to the brokerage team, 'Thanks. I've got it from here.'"
In the column ("There's No 'I' in 'Lease'"), Freinberg notes that giving short shrift to collaboration is a mistake, especially when it comes to large-scale deals.
The former LeClairRyan CEO, who returned to his real estate and corporate practice at the firm last year, cites a deal in which he worked closely with his client's broker to help a Fortune Global 100 company negotiate the lease for its U.S. headquarters. "The negotiations were lengthy and complex," Freinberg writes. "Fortunately, the broker I worked with was outstanding. We worked closely to dig into the details, structure the economics of the transaction and carefully consider business issues as they affected legal considerations in play."
The teamwork involved huddling with the client's businesspeople to develop solutions that ultimately led to a very positive outcome, Freinberg writes. "By contrast, a silo-style approach ('I'll take it from here') would have sharply limited the amount of knowledge, as well as the multiplicity of perspectives, available to the client," he noted. "Why do that?"
In the column, Freinberg advises that neither brokers nor their clients should accept a truncated relationship with the legal team. When attorneys and brokers collaborate, they make each other's jobs easier and raise the overall quality of strategic analysis and intel, he explains. "If you get a sense that an attorney you plan to work with fails to appreciate the value of collaboration, think carefully about the potential implications," Freinberg counsels.
After all, brokers bring market intelligence to the table, he notes. "When the negotiations get heated, for example, a good tenant rep can honestly say to the prospective landlord, 'Listen, I live and breathe this market and am aware of a number of other viable sites. Your property is not the only game in town,' " Freinberg writes.
On the landlord side, a good broker understands how well or poorly competing properties in the marketplace are actually performing; has a realistic grasp of tenant expectations; and knows the prevailing concessions typically demanded by tenants and granted by landlords in the marketplace, Freinberg says.
Meanwhile, the attorney needs to bring a lot to the table as well with respect to legal and negotiating skills, creativity, efficiency, technological savvy and other value-adds, Freinberg advises.
"Simply put, an unwillingness to collaborate is a red flag—a sign that the lawyer could be stuck in an old mentality based on maximizing billable hours rather than competing through superior service and providing value to the client," he writes in the conclusion to the piece. "Forward-thinking brokers and attorneys alike should see large-scale, high-stakes deals as a team sport—and play to win."
The article is available to registered readers at:
http://www.globest.com/sites/paulbubny/2017/02/02/theres-no-i-in-lease/
About LeClairRyan
As a trusted advisor, LeClairRyan provides business counsel and client representation in corporate law and litigation. In this role, the firm applies its knowledge, insight and skill to help clients achieve their business objectives while managing and minimizing their legal risks, difficulties and expenses. With offices in Atlanta, California, Connecticut, Delaware, Florida, Maryland, Massachusetts, Michigan, Nevada, New Jersey, New York, Pennsylvania, Rhode Island, Texas, Virginia and Washington, D.C., the firm has approximately 350 attorneys representing a wide variety of clients throughout the nation. For more information about LeClairRyan, visit http://www.leclairryan.com.
###
Press Contacts: At Parness & Associates Public Relations, Bill Parness, (732) 290-0121, bparness(at)parnesspr(dot)com or Lisa Kreda, lkreda(at)parnesspr(dot)com