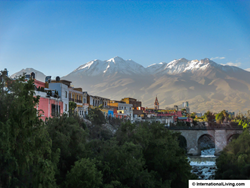 With the future of Social Security and Medicare uncertain under the new administration in Washington, Baby Boomers have reason to be worried about what their "golden years" might look like.
Baltimore, MD (PRWEB) February 07, 2017
The majority of recent studies on retirement show that most Americans are not adequately prepared for it: They haven't saved enough, they'll likely outlive their nest egg, and so they are instructed to work longer, spend less, and lower their expectations for their retirement lifestyle.
With the future of Social Security and Medicare uncertain under the new administration in Washington, Baby Boomers have reason to be worried about what their "golden years" might look like.
But a new report from the editors at InternationalLiving.com argues that retirees should take heart. There is, they say, another, better way to retire.
"Go to the right places overseas, and retirees can actually improve their quality of life while they spend less," says Jennifer Stevens, International Living Executive Editor.
The winners of the "Cost of Living" category of International Living's just-released Annual Global Retirement Index 2017 point to the top five, best-value countries overseas today. These span the globe from Latin America to Southeast Asia.
"Take a budget that would require skimping at home—say you have just $1,500 a month to spend," says Stevens. "In the U.S., that won't get you very far when you consider that the average rent on a two-bedroom place in De Moines, Iowa, for instance, is $970. Layer in food, utilities, healthcare, and so on... and there's not going to be much—if anything—left for travel or eating out.
"But if you, instead, take that $1,500 a month with you to one of the best-value places in the world... you'll find your retirement, instead of limiting your quality of life, can expand it. All of a sudden, you can afford to rent a nice place in a safe community where the people are welcoming and the climate suits you; take advantage of good-quality, low-cost medical care; eat well; travel... you can afford to relax and do what you want to do with your time."
International Living's Annual Global Retirement Index 2017 ranks and rates the 24 best retirement havens in the world. In all of them it's possible to live better for less, but some are more cost effective than others.
To identify the most cost-effective countries for an overseas retirement, the International Living editors and contributors living all around the world evaluated things like day-to-day expenses, the cost of a flight back to the U.S. to visit family and friends, the price for groceries, movie theater tickets, eating out, garbage collection, gas, gym membership, and other hidden and often unconsidered costs such as local travel.
The countries that come out on top in the "Cost of Living" category in this year's Index, providing the most affordable cost of living for retirees, are...

Vietnam has become a popular destination in Southeast Asia for both expats and tourists. In 1990, it was one of the poorest countries in the world; today, it is decidedly middle-class and on an upward trajectory. Upscale malls and trendy residential areas are sprouting up everywhere and there are now several internationally accredited hospitals.
"Vietnam remains an extraordinarily inexpensive place to live," says International Living's Vietnam correspondent Wendy Justice. "Modern, furnished, two-bedroom apartments can be found in lovely beach towns starting at around $350 to $400 per month, and for around $500 per month in major cities. Apartments often include cable TV, high-speed internet, water, trash, and housekeeping in the rent. Good housekeepers are happy to earn just $2 or $3 per hour.
"Even in the most expensive cities—Ho Chi Minh City and Hanoi—two people can live well for less than $1,500 per month," Justice reports, "If you're hoping to find an even lower cost of living than that, my advice is to head for the beaches. Three low-cost beach towns that won't break the bank are Nha Trang, Hoi An and Da Nang."
During 2016 the Colombian peso averaged an exchange rate of 3,100 pesos to $1 USD, making it an extremely affordable place to live. The actual costs will vary depending on exact location, but a monthly budget of $1,500 to $2,000 will allow not just the necessities of life, but also some great amenities like regular maid and handyman services.
Rental prices are low, too.
"In a medium-sized city such as Pereira, unfurnished three-bedroom, two-bathroom apartment rentals are in the $400 to $600 range, says International Living's Colombia correspondent, Nancy Kiernan.
"In the upscale El Poblado neighborhood in the city of Medellín, where I live, rents can be in the $800 to $1,000 per month range. Even at that, the costs are significantly lower than in most major U.S. cities."
Utilities (water, electricity, and gas) average $70 per month. High-speed, unlimited internet, home phone and cable TV will be about $60 per month. Due to the temperate climate in much of the country, there is no need for central heating.
Peru has long been a destination for tourists seeking outdoor adventures, spectacular scenery, and archaeological treasures. For expats looking for an inexpensive retirement location, it offers one of the most attractive costs of living in Latin America.
From renting to eating out, Peru offers a high quality of life with a modest income. In Arequipa, hundreds of traditional picanterias offer three-course lunches for as little as $2, including a jug of purple chicha morada, the local drink of choice. A large three-bedroom apartment in the popular Yanahuara district of Arequipa can be found for $350 per month or less. For double that price, it is possible to find a totally furnished and outfitted modern condo.
"You really can live well on the cheap in Peru," says International Living editor Jason Holland. "Your cost of living will, of course, depend on your lifestyle. But many expats report spending about $1,500 a month, all in."
Utilities are affordable, too. In Arequipa and Cusco, where air conditioning isn't needed, electricity will run $50 to $60 a month. Water is $10, and high-speed internet/cable TV about $70.
Monthly expenses in Nicaragua average $1,200 to $1,500 a month. That includes a one-bedroom furnished apartment, food, electricity, water, internet, and going-out money. Having a vehicle will add some extra expenses, but in Nicaragua's main cities, public transportation is cheap and constantly available.
Food is inexpensive, and taxes are affordable. Examples of real estate taxes include $141 a year for a $132,000 house, on almost an acre of land with an ocean view. Unlike the U.S., Nicaragua does not tax income earned abroad.
"There is no comparison in the cost of living between the U.S. and Nicaragua," reports Bonnie Hayman, who moved from San Diego to the beach town of San Juan del Sur nine years ago. "Here, you can have a higher quality of life, no financial worries, a better house, more fun, and less stress for a fraction of the cost of back home. Nicaragua literally saved my financial life," she says.
If there is one thing that expats in the Kingdom of Cambodia are most likely to agree on, it's that this country offers an affordable cost of living that is hard to compete with.
Western-style apartments are available to rent from $300 a month in the capital of Phnom Penh, and go for as little as $200 a month in the beach town of Sihanoukville. Meals at quality local and international restaurants cost as little as $10 to $20 for two people. Cambodia also offers massive savings for those who require regular medications, with cities such as Phnom Penh having several professional pharmacy chains and specialists that provide brand name medications at less than 10% of the cost it would be in the U.S.
Expats report living the high life in Cambodia on a low budget. "The cost of living here is so low that my bills total only around $1,200 a month, without having to budget," says expat Brett Dvoretz, who lives in Sihanoukville.
The full report on the five countries with the lowest cost of living in the world's top retirement havens can be read here. The 5 Top Retirement Havens with the Lowest Cost of Living.
Editor's Note: Members of the media have permission to reproduce the article linked above once credit is given to InternationalLiving.com.
For information about InternationalLiving.com content republishing, source material or to book an interview with one of our experts, contact Associate Editor Carol Barron, 772-678-0287 (US), CBarron(at)InternationalLiving.com.
For 36 years, InternationalLiving.com has been the leading authority for anyone looking for global retirement or relocation opportunities. Through its monthly magazine and related e-letters, extensive website, podcasts, online bookstore, and events held around the world, InternationalLiving.com provides information and services to help its readers live better, travel farther, have more fun, save more money, and find better business opportunities when they expand their world beyond their own shores. InternationalLiving.com has more than 200 correspondents traveling the globe, investigating the best opportunities for travel, retirement, real estate, and investment.